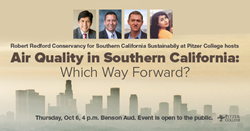 Claremont, Calif. (PRWEB) October 03, 2016
The Robert Redford Conservancy for Southern California Sustainability at Pitzer College is hosting "Air Quality in Southern California: Which Way Forward?", a summit on regional air quality, environmental justice and climate action. California Senate President pro Tempore and Pitzer alumnus Kevin de León '03 will present the keynote address. The summit takes place on Thursday, October 6, 2016, from 4-6:30 p.m. in Pitzer College's Benson Auditorium.
The Air Quality in Southern California Summit will focus on two central themes:

The impact of last year's Porter Ranch natural gas leak on local public health and on statewide greenhouse gas reduction goals
Air quality management policies of the South Coast Air Quality Management District and California Air Resources Board
Professor Brinda Sarathy, director of the Robert Redford Conservancy for Southern California Sustainability at Pitzer College, said the air quality summit couldn't be timelier. California has recently passed major pieces of legislation that address air quality, climate change and environmental justice. The summit also comes less than a year after the Paris Climate Conference, which outlined an international plan to limit the increase in global temperatures to 1.5-degrees Celsius above pre-industrial levels.
"California is a leader on climate change, not just in the US but globally," said Sarathy, who is an associate professor of environmental analysis at Pitzer.
De León, who graduated from Pitzer College with a degree in the politics of education, will address the environmental challenges facing California and the state's climate justice agenda. De León has ushered crucial environmental bills through the California State Legislature since he joined the State Senate in 2010. He authored legislation that set a goal to generate half California's electricity from renewable sources by 2030 and has advocated for environmental justice representation on air quality issues.
Following de León's keynote address, a panel of environmental experts will tackle regional air quality issues and efforts to promote environmental justice in the Golden State. Members of the panel are:
Joseph Lyou, president and CEO, Coalition for Clean Air and board member of the South Coast Air Quality Management District
Nancy Martinez, environmental reporter, Eastern Group Publications
Timothy O'Connor, director, Environmental Defense Fund's Oil and Gas Program in California
Brinda Sarathy, director, Robert Redford Conservancy at Pitzer College; associate professor of environmental analysis, Pitzer College (moderator)
The panelists will discuss the impact of the Porter Ranch gas leak, which released more than 97,000 metric tons of methane into the atmosphere, and the bill California Governor Jerry Brown signed on September 8 that calls for a 40 percent reduction of greenhouse gas emissions from 1990 levels by 2030. They will also talk about environmental justice issues in light of the fallout from the Exide Technologies battery recycling plant, which exposed residents in Vernon, CA, and surrounding communities to toxic levels of lead and arsenic for decades. After brief remarks from individual panelists, Professor Sarathy will open up a question and answer session to the audience.
"Our goal is really to engage our students and the broader public on critically important environmental challenges facing the region and the world," Sarathy said. "We want to communicate the issues but also explore ways we can take action—we need a wide range of solutions to tackle such huge problems."
The Robert Redford Conservancy for Southern California Sustainability at Pitzer College crafts initiatives and creates innovative academic programs around today's environmental challenges. Driven by the liberal arts and guided by Pitzer College's core values of environmental sustainability and social responsibility, the Robert Redford Conservancy takes a collaborative, interdisciplinary approach to environmental problem solving while promoting the longevity of Southern California's natural environment and the wellbeing of its peoples.
About Pitzer College
Pitzer College is a nationally top-ranked undergraduate liberal arts and sciences institution. A member of The Claremont Colleges, Pitzer offers a distinctive approach to a liberal arts education by linking intellectual inquiry with interdisciplinary studies, cultural immersion, social responsibility and community involvement. For more information, please visit http://www.pitzer.edu.