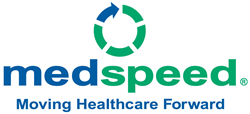 MedSpeed is perfectly aligned with us.
Boise, Idaho (PRWEB) October 04, 2016
St. Luke's Health System (SLHS), the only Idaho-based, not-for-profit health system, has announced a partnership with healthcare intra-company logistics provider MedSpeed for the enterprise-wide movement of St. Luke's physical materials. MedSpeed began delivery services for SLHS on September 26.
"This new level of service will standardize transportation operations and provide intra-company logistics process improvement opportunities for SLHS, while enabling our employees to be exceptional in their roles and take care of our patients at the highest level possible," said Paul Lambert, system director of supply chain operations.
"MedSpeed is excited to begin providing intra-company logistics support to SLHS and helping them continue to support their mission to improve the health of individuals in Boise," said Jake Crampton, CEO of MedSpeed. "With a strategic, technology-enhanced transportation network in place, SLHS can be more efficient and effective as the organization grows and migrates its focus from treating sickness to promoting wellness."
St. Luke's goal is to partner with a single company that leverages state-of-the-art technology for chain of custody tracking and quality metrics for reporting, Lambert said. "MedSpeed is perfectly aligned with us," he said.
About St. Luke's Health System
St. Luke's is the only locally governed, Idaho-based, not-for-profit health system, with a network of seven full-service medical centers and more than 200 outpatient centers and clinics serving people throughout southern Idaho, eastern Oregon, and northern Nevada. Our mission is to improve the health of the people in our regions by providing access to a full range of effective and efficient health care and related services. St. Luke's also is the recipient of national recognition that signifies the highest levels of patient care and safety for healthcare consumers. The Centers for Medicare & Medicaid Services' hospital quality star ratings, designed to help patients navigate the complicated terrain of care quality, show that St. Luke's Boise and St. Luke's Meridian are the top hospitals in Idaho and the only Idaho hospitals to receive the full five stars.
About MedSpeed
Healthcare transportation, or intra-company transportation logistics—the enterprise-wide movement of physical materials, such as blood and other specimens, pharmaceuticals, supplies, equipment, print, mail and more—is the foundation of the healthcare supply chain. Every healthcare organization needs transportation for its clinical operations to function. MedSpeed is the market-leading organization that is changing the way the healthcare industry views transportation logistics by leveraging it to help laboratories, health systems and other healthcare organizations integrate. MedSpeed treats transportation as a strategic asset that works as a means to achieving greater operational efficiencies, reducing risk, more effectively utilizing scale, eliminating redundancies and centralizing services.