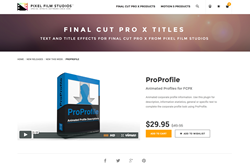 ProProfile is a set of 30 self animating corporate profiles which are completely customizable and easy to use
Aliso Viejo, California (PRWEB) October 07, 2016
"ProProfile is a set of 30 self animating corporate profiles which are completely customizable and easy to use," said Christina Austin - CEO of Pixel Film Studios.
With 30 unique corporate profile animation presets, ProProfile is the best way to advertise business personal statistics . Each preset establishes a custom style and features essential elements for editors creating profile designs. By simply altering the text and colors, FCPX users can apply ProProfile to any business media.
ProProfile features animation controls that allow editors to modify several aspects of the pre-animated presets. Personalize any media with on-screen controls that can determine the scale, position, and rotation of title elements with the drag of a mouse. Users can also establish starting, resting, and exit positions of the profile animations. With on-screen controls FCPX users can manipulate the overall appearance quickly and easily.
ProProfile gives FCPX users control over each individual animation play-time duration. Each preset is designed to allow users to manipulate the length of time the animation will play simply by stretching out the preset in the Final Cut Pro X timeline. Achieve multiple different speeds needed for production with Pixel Film Studios' ProProfile.
ProProfile style controls allow users to alter background shape color, scale, opacity, and roundness of corners. ProProfile also contains "Drop-Zone" locations that allow users to import any desired images within the design of any preset. These "Drop-Zones" can be customized by altering scale, position, and framing options. With so many stylization controls, ProProfile makes it simple to generate multiple different designs with each individual preset.
Established in 2006, Aliso Viejo, California-based Pixel Film Studios is an innovative developer of visual effects tools for the post-production and broadcast community. Their products are integrated with popular non-linear editing and compositing products from Apple FCPX. Apple, the Apple logo, Mac OS X, and Macintosh are registered trademarks of Apple Inc. in the U.S. and/or other countries. All other trademarks and trade names are the property of their respective owners.