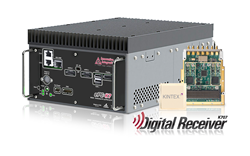 Camarillo, California (PRWEB) October 05, 2016
Innovative Integration, a trusted supplier of signal processing and data acquisition hardware and software solutions, today announced the K707 Digital Transceiver.
The K707 Digital Receiver supports two  FMC-310 plug-in modules  providing up to 6 antenna inputs, 128 independent channels of DDC, and one spectrum analyzer embedded in a Xilinx Kintex-7 FPGA. It supports monitoring and/or recording of wide- or narrow-band spectra or channelized IF band data. The receiver supports contiguous recording at 1,300 MByte/s to four SSDs until running out of disk space.
Eight DDC banks, each supporting 16 channels, support monitoring of 128 DDC channels per single module. Each DDC bank can select its ADC source and decimation rate; each DDC channel has its own programmable tuner and programmable low-pass filtering supporting output bandwidth up-to 800 KHz.
The spectrum analyzer, which supports hardware windowing, calculates the wide-band spectrum of raw ADC data or the narrow-band spectrum of the cooked DDC output data at a programmable update rate.
A development kit is available to support creation of custom instrumentation. Users can insert custom-made VHDL cores into the supplied Framework to create advanced applications.
About Innovative Integration – a Molex company
Innovative Integration is a data acquisition company that designs embedded boards, for digital signal processing, software defined radio and data acquisition with digital & analog interfaces which incorporates re-configurable FPGA products available in the XMC, FMC, PCIe, VPX and PXIe form-factors.
About Molex, LLC
Molex brings together innovation and technology to deliver electronic solutions to customers worldwide. With a presence in more than 40 countries, Molex offers a full suite of solutions and services for many markets, including data communications, consumer electronics, industrial, automotive, commercial vehicle and medical. For more information, please visit http://www.molex.com