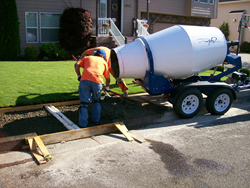 Along with our MixKing 1.75-yard mixing trailer, these two workhorses are revolutionizing the concrete delivery industry.
MCMINNVILLE, OR (PRWEB) October 10, 2016
To be in the concrete delivery business, a person once had to have a full-size concrete batch plant costing nearly a million dollars. Big ready-mix delivery trucks cost about $200,000 each. But, for the past 13 years, contractors, homeowners, and city employees alike have enjoyed using trailer-based ready-mix concrete from Cart-Away Concrete Systems, saving the upfront cost of investment and fees associated with a full-size concrete truck. Now Cart-Away is offering its new Mini Belt Loader, allowing users to load their mixing trailers quickly with a reduced footprint.
Assembled in a matter of minutes, Cart-Away's Mini Belt Loader can easily be moved from one location to another. Its seven-foot long conveyor rapidly loads dry materials into the mixing drum with the same hydraulic power used by big ready-mix trucks. Once the belt starts, users simply scoop raw materials onto the belt to fill the drum and are ready to mix concrete.
Customers benefit from using Cart-Away's concrete trailers because they are able to mix small amounts without incurring any delivery fees. The set-up costs, permits, and land improvements necessary for operating a full-size concrete plant add hundreds of thousands of dollars to a project, but a Cart-Away mixing trailer and Mini Belt Loader can put someone into ready-mixed delivery for less than $30 thousand. "With concrete delivery fees so high, this combination provides a practical alternative to paying short-load fees," said Bruce Christensen, president of Cart-Away Concrete Systems.
The new Mini Belt Loader can load several trailers in a day, and can be set up temporarily at a job site or kept assembled for regular trailer loading. Its conveyor is just the right height for slinging dry mix off the belt and into the mixing drum, and its fast-moving belt and wing-walls let users dump from larger tractor buckets to accelerate the mixer filling process.
"Our Mini Belt Loader is compact and efficient," said Christensen. "Along with our MixKing 1.75-yard mixing trailer, these two workhorses are revolutionizing the concrete delivery industry."
About Cart-Away Concrete Systems, Inc.
Since 1993, Cart-Away Concrete Systems has been the leading provider of mid-sized concrete mixers and batch plants. With locations in the U.S., Canada, and Australia, Cart-Away's trailer-based ready-mix concrete helps homeowners, contractors, and municipalities save money. With available trailers in one yard and 1.75 cubic yard capacities, Cart Away's trailers deliver fresh ready-mixed concrete to each jobsite. For more information, visit ConcreteTrailer.com.