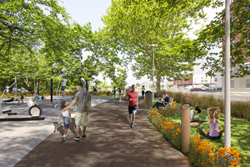 Our continued work on Riverfront Park allows the Passaic River to serve as a front-door into the City, - Mayor Ras J. Baraka
Newark, NJ (PRWEB) October 05, 2016
Mayor Ras J. Baraka, Economic and Housing Development director Baye Adofo-Wilson and New Jersey state director for The Trust for Public Land (TPL) Anthony Cucchi announced today that construction is beginning on a 4-acre expansion of Riverfront Park along the Passaic River, the next step in efforts to expand the park to nearly 40 acres over a three-mile stretch of land.
The growth is due in part to a strong public/private partnership between the City of Newark, The Trust for Public Land, The Horizon Foundation for New Jersey and the New Jersey Department of Environmental Protection (NJDEP), which are collectively contributing grant monies of more than $6 million for park construction and amenities designed to enhance visitors' and residents' overall park experiences, including walkways, a Fitness Zone® and the Horizon Wellness Trail. This next phase of construction will also create pedestrian access under the Jackson Street Bridge, providing more convenient access from downtown Newark to the city's East Ward.
Since the City's founding 350 years ago, the riverfront has been a key contributor to its growth and prosperity. Home to one of the busiest ports on the East Coast, Newark is making sure that everyone benefits from its waterfront. This 4-acre park expansion will improve park lighting, create new and update existing walking paths and include other facilities and services that allow residents and visitors alike to enjoy an expanded greenway and riverfront access.
"Our continued work on Riverfront Park allows the Passaic River to serve as a front-door into the City," said Mayor Ras J. Baraka. "Partnerships like the one we have here with The Trust for Public Land, The Horizon Foundation for New Jersey, the New Jersey Department of Environmental Protection and Essex County ensure that residents and visitors alike benefit from the City's growth and prosperity. Riverfront Park shows what can be accomplished by working together."
The riverfront park system, developed in partnership with the City of Newark, The Trust for Public Land, and Essex County's Parks Department currently includes a baseball diamond, playing fields for soccer and football, as well as courts for tennis and basketball. There are also walking paths, a bikeway, a riverfront boardwalk, a floating dock and playgrounds, along with signs detailing the history of the area. "In addition to providing a great outdoor space for city residents and downtown workers to enjoy Newark's riverfront, our partnership is helping to create a healthier community," said Anthony Cucchi, New Jersey state director for The Trust for Public Land. "For example, the park's expansion will soon provide a Fitness Zone to exercise in, a new dedicated lane for cyclists, and the Horizon Wellness Trail to connect Newark's Ironbound neighborhood with downtown Newark."
Horizon Blue Cross Blue Shield of New Jersey, through its charitable arm -- The Horizon Foundation for New Jersey -- is one of several organizations committed to redeveloping the riverfront, creating new walkways and ensuring that all park visitors have access to fitness facilities and choices that encourage people to engage in healthy lifestyle activities. The Horizon Foundation has provided $250,000 for park construction and the development of the Horizon Wellness Trail that will connect Newark's Ironbound community with downtown Newark.
"As a Newark-based company for 84 years, Horizon believes that the riverfront is a valued natural resource that can bring city neighborhoods together and through its development, can open new doors to wellness and recreational opportunities for community residents and downtown workers alike," said Robert A. Marino, Horizon BCBSNJ chairman & CEO and The Horizon Foundation Board chairman. "The riverfront park expansion is testament to the commitment of government, corporate, community and environmental organizations to create a more beautiful, healthier Newark."
"The Christie Administration is proud to be a key partner in the development of Riverfront Park, which is helping to transform the Newark waterfront by and reconnecting residents to the Passaic River through creation of green space and recreational opportunities," said New Jersey Department of Environmental Protection commissioner Bob Martin. "Rivers have long been an integral part of urban communities. Re-connecting people to them enhances quality of life. The Administration has a proven track record of working with government leaders, community groups and nonprofit organizations to improve the quality of life in New Jersey's cities."
Lead funding for the riverfront park system, including $5.3 million grant from the state's Office of Natural Resource Restoration for this current phase of construction, has come from NJDEP. In addition to NJDEP, other key partners include Essex County, The Healthcare Foundation of New Jersey, Geraldine R. Dodge Foundation, Greenspaces - a Fund of the Community Foundation of New Jersey, The Prudential Foundation, Richmond County Savings Foundation and the Victoria Foundation. The partnership also secured public grants from the New Jersey Hazardous Discharge Site Remediation Fund, the Newark Urban Enterprise Zone Authority, the Essex County Recreation and Open Space Trust Fund, and other sources. The City of Newark and the Newark Community EDC plan to continue expansion of the park in the summer of 2017, eventually extending to 4th Avenue.
-NEWARK-
Newark's Department of Economic & Housing Development: Creates economic opportunity for Newark residents and enhance the vibrancy of our city. To this end, the department seeks to position Newark to take advantage of its unique assets, including its strategic location, a diverse and underutilized workforce, a large amount of developable land, concentration of corporate and business service firms, several major universities, and a wealth of arts and cultural assets.
The Trust for Public Land: Founded in 1972, The Trust for Public Land is the leading nonprofit working to conserve land and create parks for people. Operating from more than 30 offices nationwide, The Trust for Public Land has protected more than three million acres from the inner city to the wilderness and helped generate more than $34 billion in public funds for conservation. Nearly ten million people live within a ten-minute walk of a Trust for Public Land park, garden, or natural area, and millions more visit these sites every year. Learn more: tpl.org.
The Horizon Foundation for New Jersey: The Horizon Foundation for New Jersey is committed to working alongside those who can help us improve our neighbors' health, inform their health decisions and inspire them to lead healthier, more fulfilling lives. The Foundation's funding pillars are Caring, Connecting and Creating. Horizon Blue Cross Blue Shield of New Jersey is the sole member of The Horizon Foundation for New Jersey, both of which are independent licensees of the Blue Cross and Blue Shield Association.