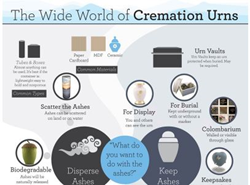 Now that more people are buying urns online rather than from funeral homes, they lack the information and guidance that funeral homes have traditionally provided.
Saint Paul, Minnesota (PRWEB) October 04, 2016
OneWorld Memorials, an online cremation urn and memorials retailer, has released a proprietary infographic to guide individuals through the labyrinth of choices involved in selecting the right urn to house their loved ones' ashes. The dramatic rise in cremation over the past decade has prompted industry wide, exponential growth in the development and manufacturing of a wide variety of products, with a dizzying array of shapes, sizes, and designs. While providing customers with a more diverse "menu" to choose from, what was once a relatively simple process at the funeral home has also become increasingly difficult to navigate online, causing some consumers stress and emotional overload.
"One customer was in tears," says Katrina Westlund, customer service manager. "She had been going from site to site over a period of four days and still didn't feel any closer to finding the right urn. She was ready to give up. There were just too many sites and cremation urns to choose from – and we get calls like this regularly."
Now that more people are buying urns online rather than from funeral homes, they lack the information and guidance that funeral homes have traditionally provided. And, while numerous online articles address the complexities of urn selection, people may still have trouble making sense of this foreign terrain, as evidenced by the volume of calls from bereaved customers seeking help.
"About 10% of our customers call in for assistance and it was clearly time to try something different," says Ira Woods, President of OneWorld Memorials. "This is a distressing situation for some people, and the dozens of retail websites selling urns apparently weren't making it any easier – including our own."
In an effort to offer a simple way to educate the public, Woods and his team developed an infographic that can help most anyone searching for a cremation urn cut through the confusion and narrow down their search.
The infographic was based on OneWorld Memorial's fundamental question: "What do you want to do with the ashes?" Understanding how customers intend to handle and use the ashes influences the types of urns they should consider. For instance, many people want an urn they can display in their home, in which case a sturdier container made of metal, wood, ceramic or stone-which naturally has more longevity-makes more sense than a biodegradable urn, which, by definition, deteriorates over time. Knowing their desired use makes choosing urns for ashes infinitely easier.
"It's painful to see people going through so much confusion at a time when their grief is difficult enough to deal with. Once you remove the chaos inherent in online shopping during such a vexing time, buying an urn can be more of a heartfelt expression rather than a nerve-wracking chore," says Woods. "You can almost hear the deep sigh of relief when a customer is armed with the information needed to make a confident decision."
The info-graphic, located on the OneWorld Memorial's site is entitled "The Wide World of Cremation Urns" and has embed code for those who wish to display it on their own sites. It can be viewed at: https://www.oneworldmemorials.com/pages/the-wide-world-of-cremation-urns .