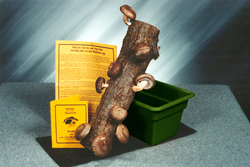 Our log kits are priced with "shipping included." There's no such thing as "free shipping." Speaking truthfully is important to me. -- Shiitake Mama
Perkins, OK (PRWEB) October 04, 2016
Fall is Nature's prime time for growing shiitake mushrooms to build the body's immune season before winter. Fully guaranteed, Shiitake Tree in a Tray Kit from Lost Creek Mushroom Farm grows shiitakes every two months for years.
According to Sandra Williams, aka Shiitake Mama, "Our bodies crave mushrooms in the fall when shiitakes are abundant. It's a natural cycle because we need strong immune systems during the winter months. Shiitakes are Nature's defense against colds and flu. They stimulate and strengthen the immune system."
Lost Creek Mushroom Farm has a line of shiitake mushroom log kits starting at $20. "It's a family tree," said Shiitake Mama. "We've created it with good humor and fun. Shiitake Tree in a Tray is the Granddaddy. It was our original kit and we see him as the respected elder of the family."
According to Shiitake Mama, shiitakes are growing wild in Asian forests now, and cultivated in the US. "The healthiest, most potent, and best-tasting shiitakes are grown on hardwood logs like they grow in Nature. Log-grown shiitakes are hard to come by."
Sandra and her husband Doug Williams have been growing shiitakes on hardwood logs for 25 years. (See how they do it here.) They cut logs in winter and inject them with spawn, the seed material. The spawn grows through the wood until fall. Cooler temperatures and rain make the mushrooms pop out and in a few days they are ready for harvesting.
Grown indoors like plants, a shiitake mushroom log will produce mushrooms about every two months. Doug described how they grow: "Immerse your log in non-chlorinated ice water to get the mushrooms. Then let it 'rest,' soaking it in non-chlorinated water every two weeks to keep the shiitake growing inside the log until the next "fruiting." You get more every time for about 3 years.
"Set them outside in shade now and they'll grow more mushrooms, bigger and meatier. Then take them inside and they'll fruit during the winter," he said.
Kits include a ready-to-fruit hardwood log, instructions and a recipe booklet. All mushroom log kits over 9 inches are fully guaranteed. Shiitake Mama is adamant about shipping costs: "Our log kits are priced with 'shipping included.' There's no such thing as 'free shipping.' Speaking truthfully is important to me."
Lost Creek Mushroom Farm's Shiitake Mama mushroom kit is a 10-inch log for $33.30. The Shiitake Ma & Pa Kit contains two 10-inch logs for $55.50. They can yield a harvest of shiitakes every month instead of every two months by alternating the fruiting log. Fruited together, they grow more mushrooms than a single 20-inch log.
Baby 'Shroomie is a 6-inch log for $20. It fruits the same way as the larger kits but is not guaranteed. 'Shroomie's brother, the Big Boy kit, is a 12-inch log for $38. Granddaddy Shiitake Tree in a Tray is a 14-inch log with its own tray for soaking, fruiting and resting for $49.95.
The Best Buy has two 14-inch logs in soaking trays shipped to the same address at substantial savings. Logs can be alternated for monthly harvests or fruited together for large harvests.
"I like to say, get the Best Buy. Give one as a gift and keep one for yourself," Shiitake Mama said, "especially for the holidays. Thanksgiving, Hanukkah and Christmas orders are in order on our new website, http://www.shiitakemushroomlog.com."
Lost Creek Mushroom Farm donates a portion of sales to Mushrooms for Well Being Foundation: Mushrooms in Ghana Project. The project is building a laboratory to provide spawn for small-scale mushroom farmers in Ghana and West Africa.