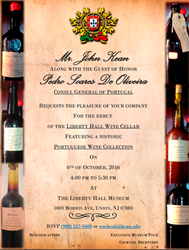 "We are history's best kept secret!"
Elizabeth, NJ (PRWEB) October 04, 2016
On October 6th at 4:00pm, the Liberty Hall Museum will "wow" even the finest wine connoisseur as they debut their renovated historic wine cellar that dates back to before prohibition. Uncovering an extensive historic collection of Madeira, Port and Sherry wines, the guest of honor the Consul General of Portugal– Pedro Soares De Oliveira will join Mr. John Kean, President of Liberty Hall Museum and welcome the Portuguese community to experience a piece of its valuable history that sits in the heart of Union County.
The event is set to launch in conjunction with the new tourism initiative branding Elizabeth as New Jersey's newest destination. The Elizabeth Destination Marketing Organization promotes the Liberty Hall museum as one of its main historic attractions, where Alexander Hamilton lived while attending school in Elizabeth, NJ.
The 23-acre National Historic site was built in 1772 by New Jersey's first governor, William Livingston. Liberty Hall Museum at Kean University chronicles more than 240 years of American History and houses extensive collections of furniture, ceramics, textiles, toys and tools owned by seven generations of the Livingston and Kean families. Explore the rooms of the Liberty Hall mansion that welcomed many distinguished guests, such as George and Martha Washington, Alexander Hamilton and Presidents Ulysses S. Grant, William Howard Taft, Herbert Hoover, Gerald Ford and George Herbert Walker Bush. The Museum is open daily to the public, student groups and special interest groups.
New Jersey's newest destination is just minutes from NYC. Elizabeth's rich authentic history draws tourists to its historic landmarks and sites as well as to its high-end outlet shopping mall The Mills at Jersey Gardens (0% tax on clothes and shoes). To discover more about Elizabeth, New Jersey, please visit http://www.goelizabethnj.com for additional information.
Event details contact: William Schroh at (908) 527-0400 or via e-mail at wschroh(at)kean(dot)edu