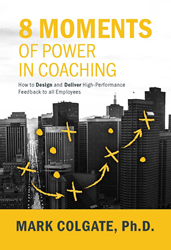 Coaching creates purpose by linking coaching to the employee's aspirations and goals as well to the organization's goals. The more alignment between the two, the higher the sense of purpose will be.
(PRWEB) October 04, 2016
Leading employees at an organization is very similar to coaching a team. All players works both on their own with their individual skill sets, and then work together when needed to finish that project on deadline, produce a sales report before the quarter ends or build a house before the winter chill settles in. Author Mark Colgate applies coaching skills to the everyday work environment by utilizing the team metaphor to enable members to become effective group players and leaders in "8 Moments of Power In Coaching: How to Design and Deliver High-Performance Feedback to all Employees," released on October 4.
Each chapter presents a crucial Moment of Power, which adds up to eight all-encompassing plays to use when developing an MVP staff. A few key moments include:

When You Realize the Power of Coaching
When You Design a System for Coaching
When You Use High-Quality Feedback to Create Experts
In the book, Colgate pays very close attention to the idea of taking on a coach role as a leader. He writes, "A coaching leadership style is critical, therefore, if you want your employees to reach their potential and if you, as a leader, want to reach your potential." Colgate is the associate dean of the Peter B. Gustavson School of Business at the University of Victoria. An expert in customer service excellence, Colgate has consulted for many service organizations including Sony, Toyota and Enerco.
All business leaders will be able to take away (plays) that change their organizations for the better. This title is available at all major retailers starting October 4. Find more information at http://www.ElevatePub.com.