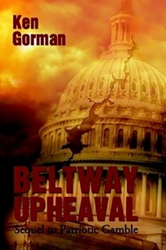 "Delivers 'West Wing' style action, full of breathless updates and sharp twists." – Kirkus Reviews, on "Patriotic Gamble"
(PRWEB) October 17, 2016
The highly anticipated sequel to the novel "Patriotic Gamble" has arrived. In "Beltway Upheaval," President George Granger ascended to the presidency under suspicious circumstances. His predecessor was chosen by the House of Representatives in a contingent election. Immediately after taking the oath, the president resigns on Inauguration Day and VP Granger is sworn in before a stunned public.
Early in his first term, charges resurface that Granger concealed the mental health issues of the former president. Additionally, Granger issues a controversial Executive Order reducing government services to ward off an economic depression. His political rival, Speaker of the House Bob Allcott, despises Granger and condemns his actions, even as he influences the House to impeach the president.
As Granger's fate hangs in the balance during the Senate's impeachment trial, his anxious Vice-President Joan Mulligan waits in the wings. Is truth stranger than fiction, or will this fictional presidency end in disaster? Anything seems possible in politics these days!
Praise for "Patriotic Gamble":
"If Ken Gorman were to write a novel based on the installation of a washing machine, I would probably buy it (the book, that is). Take 'Patriotic Gamble,' Mr. Gorman's fourth novel, for example: You suspect that the plot is going to conclude on an upbeat note, but you can't quite figure out how it is going to get there until it does." – Sam Heffner, 5-Star Amazon Review
"Delivers 'West Wing' style action, full of breathless updates and sharp twists." – Kirkus Reviews
About the Author: Ken Gorman is the retired CEO of a New York insurance company. He was active in local New Jersey politics, has a library of president biographies, and is a political junkie of the national scene. He now lives with his wife Betty in Ponte Vedra Beach, Florida. Besides golf, he enjoys spending time with his nine grandchildren.
Author Website: http://www.KenGormanauthor.com
The compelling new book Beltway Upheaval (ISBN: 978-1-365-16307-4) is now available for $14.95 and can be ordered through the publisher's website:
http://www.lulu.com/shop/ken-gorman/beltway-upheaval/paperback/product-22861516.html or at Amazon or Barnes & Noble.