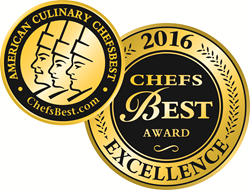 San Francisco, CA (PRWEB) October 04, 2016
In a concerted effort to help executive chefs, managers and buyers secure high-quality products for restaurants, hotels, universities, airlines and hospital cafeterias, ChefsBest has expanded its award recognition for brands competing to become top suppliers in the foodservice industry.
Like other recognition by ChefsBest, Excellence Awards are granted to foodservice suppliers following evaluation by Certified Master Tasters® using Sensory Attribute Quality Analysis®, the same proprietary judging method used when determining prestigious and nationally recognized ChefsBest Best Taste awards.
TreeHouse Foods, a food and beverage leader in the United States and Canada, recently became the latest company to earn the recognition. The company earned tops in quality in the foodservice salad dressings and pickles product categories for Rod's by Naturally Fresh™ buttermilk ranch, bleu cheese, and Caesar salad dressings, and Schwartz's® dill pickle spears and dill pickle slices.
Brands including Cargill, Rothbury Farms and Ruiz Foods have also earned ChefsBest Excellence Awards in their respective categories for foodservice products.
"We know executive chefs, managers and buyers take cost, availability and personal relationships into account when they create their supplier lists. They also understand that quality plays a large part in enticing customers to return to their establishments," said ChefsBest CEO Lisa Liguori. "The ChefsBest Excellence Award for foodservice brands gives competing brands a leg up on generic products, many times before they even make contact with buyers, and it helps to justify premium pricing."
Similar to the ChefsBest Best Taste Award, only one Excellence Award is given in each product category.
The move to include foodservice is one of several made by ChefsBest in the past year to open its coveted recognition to more brands, and in turn, help buyers, chefs and customers make more informed decisions.
Most recently, ChefsBest announced a new Quality in Craft Award for brands with under $1 million in annual sales. Previously, only those considered leading national brands were eligible for ChefsBest evaluation.
***
About ChefsBest
ChefsBest identifies and honors the best tasting grocery products in order to support the companies that make them and the people who choose to select them. Through its headquarters in San Diego and the Center for Taste in San Francisco, the organization has judged thousands of grocery products and bestowed its Best Taste and Excellence awards on the highest-quality products since 2000. Through ChefsBest, brands can unlock coveted ad claims and consumers can garner insight they need to purchase the best-tasting and highest quality ingredients. ChefsBest awards are a nationally recognized trust mark used by numerous brands, both in and out of the grocery aisle. For more information, visit ChefsBest.com.