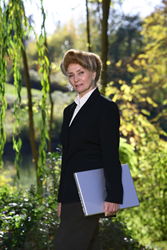 Grants Pass, OR (PRWEB) October 04, 2016
Water advocate and host of The Sharon Kleyne Hour Power of Water radio program, Sharon Kleyne, recently called on government and schools to "amp up" education about evaporation. In a recent wide ranging interview with freelance author and journalist Robert McDowell, Sharon Kleyne bemoaned the general public's lack of understanding about this crucial planetary process. "If we don't improve our understanding of the process of evaporation," Kleyne told McDowell, "we run the risk of doing more damage to our already threatened water supplies and resources, which in turn could endanger all life on earth."
McDowell asked Sharon Kleyne to describe the evaporation process, and the founder of Bio-Logic Aqua® Research Water Life Science® skillfully did so. "Evaporation is the process by which water is turned into a gas—a vapor—that enters the atmosphere and the air we breathe," Kleyne explained. "Without the water vapor in the air we breathe, which is present thanks to evaporation, we couldn't get enough oxygen to stay alive."
According to the USGS Water Science School, "Evaporation is the primary pathway that water moves from the liquid state back into the water cycle as atmospheric water vapor. Studies have shown that the oceans, seas, lakes and rivers provide nearly 90 percent of the moisture in the atmosphere via evaporation, with the remaining 10 percent being contributed by plant transpiration." Since 70 percent of the earth is covered by oceans, that accounts for much of the water evaporation process. It's also a miracle of nature that the amount of water evaporating from the ground to the atmosphere has traditionally equaled the amount of rainfall, which replenishes the surface water. Yet other factors—pollution, artificial environments using air conditioning, global warming—threaten to upset the delicate balance of the earth's water cycle.
"This is also true for the human body," Sharon Kleyne warns. "From the moment we leave our mother's watery womb-world, we begin a process of evaporation that ends only at death. We become a sieve, if you will, unto death. That's why it's so important to remember the word: EVAPORATION. Hope doesn't keep us alive; the atmospheric water vapor does that." This is critical news when so many unnatural factors combine to increase to speed up the evaporation process. Kleyne pointed out that we become over-evaporated—dehydrated—and that diminishes our health and productivity.
"We need more scientific programs and more education tracks to teach children and adults all about evaporation and the water vapor process," said Kleyne. "The air we breathe will not keep us or anything else alive if we destroy the water vapor in that air. Remember that we are mostly water," Kleyne continued. "The eye lens is 99 percent water; the brain is 80-85 percent water; the lungs and liver are 70-80 percent water; the blood is 50 percent water; even the bones are 20 percent water. We are fluid. Everything around us is made of water. Hope doesn't keep us alive; the atmospheric water vapor does that. The surface of the eye and the rest of the body must be supplemented every day—and even several times a day—to counteract over-evaporation of our body's water vapor," said Kleyne. "That's why I supplement the water vapor of my eyes and skin with Nature's Tears® EyeMist® and Nature's Mist® Face of the Water®, the only Trade Secret tissue culture grade water products to treat over-evaporation and dry eye disease on the planet. But education is the key," Kleyne concluded. "We will be in big trouble soon if we don't do a much better job educating the general public about evaporation and the water mist cycle."