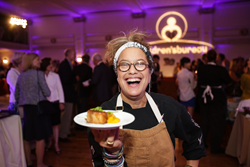 Los Angeles (PRWEB) October 04, 2016
Children's Bureau, a nonprofit leader in the prevention and treatment of child abuse and neglect, will host its seventh annual Celebrity Chefs & Wine Tasting event on October 20 from 6:00 p.m. to 9:00 p.m. at the historic Casa Vertigo in Downtown Los Angeles. The event will feature exceptional cuisine from some of the top chef's in the country, distinct selections of world-class wines, exciting live and silent auction items, an exclusive Sommelier Suite, entertainment and more.
The expected crowd of 500 guests will include corporate and civic leaders, and philanthropic food and wine enthusiasts from Northern and Southern California, who all share a passion for preventing child abuse and uplifting vulnerable families and communities. Over the years, the event has raised nearly $1.5 million to support Children's Bureau's mission.
A number of A-list chefs are scheduled to showcase their talents at the event including, Gino Angelini (Angelini Osteria), Anne Conness (Sausal), Susan Feniger (Border Grill), Ray Garcia (Broken Spanish and B.S. Taqueria), Wolfgang Gussmack (3 Square Cafe/Röckenwagner Bakery), Bruce Kalman (Union Pasadena and Knead & Co. Pasta Bar + Market), Rene Mata (Chinois on Main), Mary Sue Milken (Border Grill) and Steve Samson (Sotto and Rossoblu), among others.
With over 20 wineries set to showcase some of their top wines at the event, Wine aficionados will be delighted with the selection, including Prisoner Red Blend, SAVED Rose, DAOU Celestus 2012, Louis Martini "Lot 1" Cabernet Sauvignon, Guarachi Sun Chase Pinot Noir Single Vineyard, J Lohr "Hilltop" Reserve Cabernet, Jamieson Ranch Cabernet Sauvignon, Reata Pinot Noir and Light Horse Chardonnay, Ladera Napa Valley Cabernet Sauvignon, Malibu Family Wines Semler Syrah 2012 and Saddlerock Chardonnay 2014, Cherry Pie Pinot Noir, Chandon "Sweet Star" Sparkling Wine, Ramey Wine Cellars 2013 Russian River Valley Chardonnay, Raymond Boisset Jean Claude Boisset Bourgogne Pinot Noir and JCB #21 Brut, Rodney Strong Vineyards Sonoma Coast Chardonnay, Symmetry, Sonoma Coast Reserve Cabernet Sauvignon, Ste. Michelle Wine Estates Pratz and Hall Pinot Noir, Terlato Wines Tignenello Antanori, Benzinger Chardonnay, Tribute Estate Bordeaux Blend, Stags Leap Syrah, Trinchero Family Estates Ziata Sauvignon Blanc and Mario's Cabernet Sauvignon , VINTUS Champagne Bollinger Special Cuvee and Finca Decero Remolinos Vineyard Malbec 2010 and Miner Chardonnay, among others.
"The funds raised from our premier fundraising event will go a long way in supporting our goal of providing the highest quality of child abuse prevention and treatment services to at-risk children and families in Southern California," said Alex Morales, president and chief executive officer, Children's Bureau. "This truly magical evening celebrates the best culinary professionals and exquisite wines from around the world all in the name of making a significant difference in the lives of vulnerable members of our society."
Tickets to the general event are $250 per person. Guests interested in upgrading to the Sommelier Suite for premium wine tasting at the event, can purchase tickets for $500 per person. The Sommelier Suite is an exclusive event within the event that offers a number of rare wines from around the world poured from 1.5 Liter and 750ml formats hosted by a variety of Sommeliers.
The Presenting sponsor of the event is Bon Appétit Management Co. Sponsors at the Grand Cru level include AECOM, Avery Dennison, Bank of America Merrill Lynch and Latham & Watkins; Piece de Resistance level include City National Bank, Cushman and Wakefield, Goldman Sachs and National Account Services, Inc. ; Premier Cru level, include Ernst & Young, RT Specialty and Union Bank; Michelin Star level sponsors include Bain & Company, Edison International, First Republic Bank, Gibson, Dunn & Crutcher LLP, Grandpoint Bank, Milbank, Tweed, Hadley & McCloy LLP, Mitchell Silberberg & Knupp LLP, Morgan Stanley, Sidley Austin LLP, Stephanie and Peter Nolan Foundation and Haim Saban; and Grand Reserve level sponsors include Stephanie Campbell, Galashan Family Trust, Korn Ferry International and Mark Justice – Mr. Stax, Inc.
Please visit https://www.all4kids.org/celebritychefs to purchase tickets.
ABOUT CHILDREN'S BUREAU
Since 1904, Children's Bureau (http://www.all4kids.org) has been a nonprofit leader in the prevention and treatment of child abuse and neglect. More than 30,000 children and families are helped each year throughout Southern California with services that include school readiness, parenting classes, family resource centers, support groups, mental health counseling, foster care and adoption. Children's Bureau is one of the largest investors in child abuse prevention in the country and is developing a national model to transform an entire at-risk community through its Magnolia Community Initiative.
###