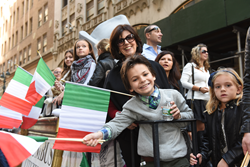 We hope the city of New York enjoys all the work that goes into the event, and that our parade can serve as a symbol for the many great accomplishments of Italians and Italian Americans.
New York, NY (PRWEB) October 04, 2016
On Monday, October 10, the 72nd annual Columbus Day Parade will be held in New York City. The parade celebrates Italian-American heritage, culture and achievements with over 35,000 participants and over one million spectators.
The Parade will run north up Fifth Avenue, from 47th to 72nd Street from 11:20 AM to 3:00 PM, led by Grand Marshal Robert LaPenta and 2016 Honorees Mario Batali and Federica Marchionni.
The Columbus Day Parade in New York City is organized by the Columbus Citizens Foundation, a non-for-profit organization dedicated to the celebration of Italian heritage and the creation of opportunities for younger Italian Americans, provided through their scholarship program which provides assistance to over 700 students annually.
The 72nd Columbus Day Parade is presented by the Conair Corporation, and will be broadcast live on WABC-TV from 12 PM to 3 PM. Renowned broadcast journalist Maria Bartiromo and actor and radio host Joe Piscopo will host the broadcast, serving as Masters of Ceremonies for the largest Columbus Day Parade held in the United States. Viewers on Fifth Avenue and watching on WABC-TV can expect to see over 115 marching groups, 25 parade floats, 35 vehicles and over 15 marching bands.
Angelo Vivolo, President of the Columbus Citizens Foundation, said of this year's event: "Every year the parade seems to grow larger and become more celebratory. We hope the city of New York enjoys all the work that goes into the event, and that our parade can serve as a symbol for the many great accomplishments of Italians and Italian Americans and offers an event that all Americans can enjoy."
There will be a wide variety of red carpet performances including Italian sensation Arianna Bergamaschi; acclaimed pianist and musician Peter Cincotti and renowned jazz performer and frequent Lady Gaga collaborator Brian Newman. Breaking Italian-American pop acts Chetti and Sabrina Salice will be debuting new singles at the parade, and "The Italian Fairy" Simona Rodano will provide family fun for viewers. Other confirmed acts include: classical tenor Elio Scaccio; performer Alyssa Lynn; The Nick Tangorra Band and choreography by Fadi Khoury's company FJK Dance. West Point Academy's Military Band will kick off the parade's red carpet performances in traditional fashion with a performance of "The Stars and Stripes Forever."
The impact of Italy will be felt throughout the parade, as our Line of March will include a kick off with several exotic Maseratis. The Parade will also include the A.N.P.S. (National Association of Italian Police) who will be accompanied by a Lamborghini police car flown in from Italy for the parade. Viewers can expect to see several Italian dignitaries marching with the Italian Consulate General, accompanied by the Corrazzieri Reggimento and two Motoguzzi (police motorcycles) also transported to New York City specifically for the day's event.
Spectators will continue to feel the culture and traditions of Italy come alive on Fifth Avenue as they see the L'Arte del Gelato truck, Italian marching band Musicale Citta de Andretta and actor/director Massimiliano Finazzer Flory in costume as innovative Italian Leonard daVinci.
Monday's Parade is the culmination of a series of events to celebrate Columbus Day including: an official sashing of our Grand Marshal and Honorees at Eataly Downtown on Wednesday, October 5; a black-tie Gala held at the Waldorf-Astoria on Saturday, October 8 and a ceremonial wreath-laying held by the National Council of Columbian Associations in New York on Sunday, October 9 in Columbus Circle.
EVENT: Columbus Day Parade
WHEN: Monday, October 10th, 11:20 AM to 3 PM
WHERE: Fifth Avenue, from 47th to 72nd Street, New York, NY
LIVE INTERVIEW OPPORTUNITIES WITH CCF PRESIDENT ANGELO VIVOLO, GRAND MARSHAL ROBERT LAPENTA AND HONOREES MARIO BATALI & FEDERICA MARCHIONNI:
October 10, 10:45 a.m. to 11:10 a.m. EST
5TH Avenue and 47th Street
For Press Pass, Contact:
Jefferson Wilson
jwilson(at)columbuscitizens.org
(212) 249 9923, ext 242
MORE ABOUT THE COLUMBUS CITIZENS FOUNDATION
The Columbus Citizens Foundation is a non-profit organization in New York City committed to fostering an appreciation of Italian-American heritage and achievement. The Foundation, through a broad range of philanthropic and cultural activities, provides opportunities for advancement to deserving Italian-American students through various scholarship and grant programs. The Foundation organizes New York City's annual Columbus Celebration and Columbus Day Parade, which has celebrated Italian-American heritage on New York's Fifth Avenue since 1929. For more information, contact jwilson(at)columbuscitizens.org