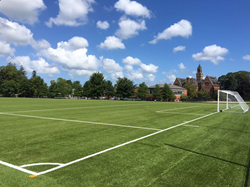 We decided to install Shaw Sports Turf because we wanted a surface we could use in all weather conditions, throughout the year, that wouldn't deteriorate.
Braintree, Massachusetts (PRWEB) October 04, 2016
Supported in part by the Upper School Senior Legacy Project, Thayer Academy is already enjoying their two new turf fields to be used primarily for field hockey, soccer, lacrosse, and baseball. One field will also be used for football practices.
In need of a surface that would offer greater flexibility, the school looked to artificial turf.
"We decided to install Shaw Sports Turf because we wanted a surface we could use in all weather conditions, throughout the year, that wouldn't deteriorate," said Bill Stephenson, Business Manager at Thayer.
But weather wasn't the only reason for the switch. Field hockey games are faster on turf than on a grass field.
"Field hockey used to play on Thayer's South Athletic Campus, which is located down the road from the main campus. Now with the new field we can bring field hockey games back to campus which will unify the community and, improve the quality of play," said Stephenson.
Thayer Academy installed Shaw Sports Turf Legion system with Geofill, the leading natural infill in the synthetic turf industry.
Legion is a combination of high-performance monofilament fibers and a durable slit film fiber. The slit film fiber is a workhorse which will handle the workload, while the monofilament provides a more resilient surface that enhances performance characteristics.
Made from completely natural materials that are environmentally friendly, GeoFill is comprised mainly of coconut husks and fibers, which are a rapidly-renewable resource.
GeoFill provides the natural footing and support of a natural field without the mess of dirt and instability of other infill systems. It demonstrates great stability and excels in critical ball-to-surface interactions such as ball roll and ball bounce. It is not only a great, natural infill system, it helps create a high-performing, state-of-the-art playing surface.
There are over 500 GeoFill installations in the world today and that number continues to grow. In 2016, dozens of schools and programs in the United States have selected GeoFill for their synthetic turf system.
An added benefit of GeoFill is that it is inherently cooler than other synthetic playing surfaces. Coconut fibers have excellent moisture retention qualities that provides evaporative cooling. GeoFill fields have been seen to be as much as 40 degrees cooler than other synthetic fields. Other alternative infills claim to be cooler, but most are hydrophobic and cannot provide the cooling effect of GeoFill.
Construction on the field wrapped up just before the Labor Day holiday, just in time for fall sports to begin. Beyond the benefits to the players, the school is also looking forward to its positive impact on the entire Thayer community.
"The fields will be an excellent venue to promote school unity and pride. We expect attendance to increase, and are looking forward to having athletes and coaches travel less. At this year's Homecoming we will have all the Athletic games on one campus," said Stephenson.
CDM Smith provided the design work on the project and Shaw Sports Turf partner GTR Turf handled the installation of the new surface.
Shaw Sports Turf Territory Manager, Joe Kacevich, also agrees that bringing all sports back on campus where they belong will only further improve the school's athletic program. "This investment will allow the school and community to see immediate, tangible results with an improvement in the quality of play and added accessibility for the Thayer community."
ABOUT SHAW SPORTS TURF
A wholly-owned subsidiary of Berkshire Hathaway Inc., Shaw Industries is a full flooring provider to the residential and commercial markets. Shaw supplies carpet, hardwood, laminate, resilient, and tile/ stone flooring products, as well as synthetic turf. Shaw Sports Turf is one of the leading synthetic turf companies in North America and has represented quality and innovation for more than two decades with over 1,500 successful installations, including an impressive list of high-profile field installations. For more information please visit http://www.shawsportsturf.com, call 866-703-4004 or find us on Facebook.