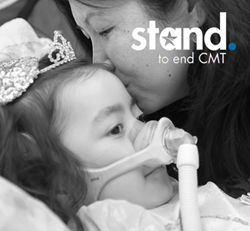 We are taking a stand for Julianna, and for all the children fighting CMT -- because we don't want any other family to know this type of loss.
Glenolden, PA (PRWEB) October 04, 2016
Today, the CMT Association announced the launch of Stand to End CMT – the CMT community's effort to call attention to, and raise funds for, a treatment for Charcot-Marie-Tooth (CMT). The effort was largely inspired by Julianna Snow, a 5-year-old girl who gained international media attention when she chose heaven over the hospital last year. Julianna and her family spent the last days of her life raising funds and awareness for the CMT Association, the nation's leading organization supporting CMT research and treatment.
"CMT affects an estimated 2.8 million people from all walks of life. CMT knows no age, race, class, or gender," said CMT Association CEO Patrick Livney, who is also living with the disease. "When you stand with the CMT Association by making a donation and spreading the word, you are putting us closer to clinical trials for treatment of CMT. The CMT community needs corporations and individuals to stand with us to end this devastating disease."
Supporters of Stand to End CMT are asked to take action by making a donation, which goes to the CMTA to fund translational research in search of a first treatment for CMT. After making a donation, participants are encouraged to share the campaign with friends and family via social media. The CMT Association will also seek support from the corporate community. Stand events will roll out in Spring 2017.
CMT is the most commonly inherited peripheral neuropathy affecting 1 in 2500 people. It's more prevalent than cystic fibrosis or ALS – but it is not as well known. There are no known treatments that will stop or slow down the progression of CMT, but the CMT Association is funding research to develop these treatments. A cure for CMT means even more hope for treating other progressive, degenerative diseases like Multiple Sclerosis, ALS and other illnesses.
"CMT is a disease of the genes, and there is an explosion of knowledge in this field. I believe this campaign will put us that much closer to treatment," said Michelle Moon, Julianna's mother. "We are taking a stand for Julianna, and for all the children fighting CMT -- because we don't want any other family to know this type of loss."
Learn more about Stand to End CMT by visiting Stand2EndCMT.org.
About the CMT Association
The Charcot-Marie-Tooth Association (CMTA) is a registered 501c3 dedicated to serving an international patient community that suffers from rare and disabling neuropathies of genetic origin (http://www.cmtausa.org). The CMTA directly engages its STAR scientific and clinical research network in the identification, validation and clinical development of therapies for the different Charcot-Marie-Tooth disorders.