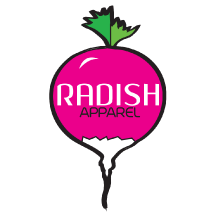 Orlando, Florida (PRWEB) October 04, 2016
Radish Apparel announced the grand opening of its e-commerce business, http://www.radishapparel.com, today. The new company will celebrate its grand opening launch on Wednesday, October 5.
As a company that embraces diversity and eccentricity, Radish Apparel aims to offer quality designs for people from all walks of life. The designs cover a wide spectrum of categories ranging from food lovers and fitness to funny and pop culture. In addition to these categories, Radish Apparel features an original, art-focused line called "Radish Specialtees" that captures the lively and fun feel of the '80s paired with unique pop culture and historical themes.
Radish Apparel will donate 5% of each purchase to a charity of the customer's choice.
"Giving customers the option to choose what charity they support was immensely important for us," says Tyler Mikula, co-founder of Radish Apparel. "At Radish Apparel, we understand that everyone is different and we love that. Supporting a cause is an extremely personal decision; we aim to provide the choice to donate to something you are passionate about."
To celebrate their grand opening, Radish Apparel will provide a 10% off coupon to customers who sign up for their newsletter. Visit http://www.radishapparel.com or facebook.com/radishapparel for more details.
About Radish Apparel
Radish Apparel was founded with the goal of offering a broad spectrum of designs for all passions on high quality and comfortable clothing while giving customers the power to choose a cause to support with every purchase.