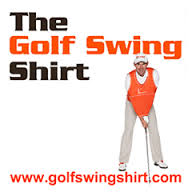 Monmouth County, New Jersey (PRWEB) October 06, 2016
Raymond Rapcavage, the inventor and CEO of The Golf Swing Shirt Company is excited to announce that Michael Breed, the #1 golf instructor for the PGA of America for 2012, has endorsed The Golf Swing Shirt. Breed is the host of The Golf Channel's instructional show "The Fixx" and is one of the most popular teaching professionals in the USA as well as the international golfing community.
Rapcavage said, "This is a great day for our company to have the validation of our product by one of the best teaching professionals in the game of golf. Shortly after we launched, Padraig Harrington, PGA superstar, proclaimed that 'The Golf Swing Shirt Is The Best Golf Swing Trainer Ever Invented' and now Michael Breed is on board with us spreading the word."
The Golf Swing Shirt is a uniquely designed center-sleeve compression shirt that helps a golfer feel what a great golf swing should feel like. After only practicing with this product for a few minutes a golfer can quickly ingrain a reliable and repeatable golf swing. Thousands of beginning,amateur, and professional golfers have reported great and consistent results in ball striking.
The beauty of this product is its simplicity and the fact that you can hit real golf balls with every club in the bag. Plus, you can actually go out and play 18 holes while wearing it in non-tournament play.
Rapcavage went on to say that "Golfers have struggled for years to find that reliable golf swing and now they have the ability to learn it in one practice session. I love to get emails from golfers that have cut 5 to 10 strokes off of their typical score!"
About The Golf Swing Shirt Company:
Launched in May of 2014 after receiving patent Reg. No. D680,608S and Trademark Reg. No. 4,519,369. It was a featured product at the 2015 PGA Merchandise Show and has won numerous innovation awards and worldwide accolades. The company is privately held and based in New Jersey, USA. The production and distribution of The Golf Swing Shirt remains in the USA and the ownership is proud to be one of few golf products made domestically and sold in 40 countries.