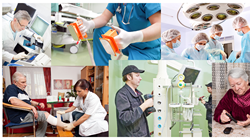 "Understanding multiple customers when developing medical devices is paramount."
Chicago, IL (PRWEB) October 05, 2016
Strategy 2 Market is facilitating a 1-day corporate workshop on designing a medical device for multiple customers, including: patient, unskilled or family caregivers, nurses, doctors, payer, distributors, service organizations.
When developing a medical device, it is important to understand all customers. Focusing on only the patient may miss the other users/customers that use the device. By designing products with all customers in mind, a more robust and usable device is developed.
This workshop will be led by Therese Graff, product development medical device expert, and Kathy Morrissey, customer experience expert, both of Strategy 2 Market.
This corporate workshop will focus on how to understand multiple customer needs when designing and developing medical devices, major topics include:

Data & methods/actions to identify and collect multiple customer needs
Identify what is known/fixed and what is undefined
Finding and assessing opportunities
Turning opportunities to product ideas
Review of tools and methods
To learn more on this topic, please read this blog posting on 'Who is your medical device customer?"
Strategy 2 Market is a product development consulting firm that works with companies to help them increase growth and decrease product development complexity.