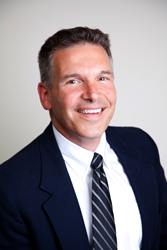 I look forward continuing the organization's essential work providing families with knowledge, guidance and support
WESTPORT, Conn. (PRWEB) January 03, 2018
Smart Kids with Learning Disabilities (SKLD) is proud to announce the election of Dr. Christopher Bogart as President of its Board of Directors. Smart Kids has also expanded its Board with the election of three new members: Claire Haft of Greenwich, CT; Cathy Irwin of New Canaan, CT; and Joan Lombardozzi of Stamford, CT.
Christopher M. Bogart, PhD, is a licensed clinical psychologist who has worked in both the private and public sectors for the past twenty years. In 2010, Dr. Bogart founded The Southfield Center for Development, a family-centered, interdisciplinary practice providing an integrated approach to learning, emotional, and behavior issues. Dr. Bogart serves as the executive director.
"To be chosen as the President of the Board is a true honor," Dr. Bogart said. "Smart Kids has been at the forefront of recognizing these children's strengths, and advocating for the development of their abilities in addition to addressing their weaknesses. I look forward to continuing the organization's essential work providing families with knowledge, guidance and support."
Dr. Bogart received his undergraduate training at Georgetown University and his doctoral degree from The American University. He has served as staff psychologist at the Beth Israel Medical Center in New York City and Director of Psychology at the Rockland Children's Psychiatric Center in Orangeburg, New York. While serving at Rockland, Dr. Bogart organized and administered an externship training program for clinical psychology and social work graduate students, and he devised a hospital-wide behavior modification program for children. He has also conducted research studies in ADHD, social skills training, and depression in children.
Claire Tisne Haft is a columnist for Greenwich Time and the mother of three children. Ms. Haft was formerly Vice President, Director of Subsidiary Rights for the Random House Publishing Group and facilitator for Random House Productions, a joint venture between the publishing house and Focus Films. She is a voting member of the British Academy of Film and Television after serving on its board for the East Coast Chapter, and a board member of the US Dyspraxia Foundation.
"A mind that is wired differently from the norm holds gifts beyond what we ever thought possible," Ms. Haft said. "Smart Kids helps families discover the gifts of their children."
Cathy Irwin is a certified Orton-Gillingham reading tutor at The Stanwich School in Greenwich, CT, and has previously taught at the Lindamood-Bell Learning Center in Connecticut and the Xavier University Lab School. Ms. Irwin has served on the boards of the New Canaan Community Foundation and the United Way of New Canaan. She is a graduate of Xavier University, Stonier Graduate School of Banking, and Mount Holyoke College.
"I am very much looking forward to serving on the Smart Kids Board, and helping them continue to fulfill their mission of educating, guiding, and inspiring parents of children with learning disabilities and ADHD," Ms. Irwin said.
Joan Lombardozzi is the Director of HR Services at Arch Capital Services, based in White Plains, NY. She has spent 25 years in Human Resources holding HR positions at Thomson & Thomson, Homesite Insurance, and MagnaCare, Inc., in addition to her current role. Ms. Lombardozzi served on the Board of Directors of The Center for Sexual Assault Crisis Counseling and Education in Stamford, CT. She resides in Stamford, CT with her husband and son.
About Smart Kids with Learning Disabilities, Inc.
Smart Kids with Learning Disabilities, Inc. is a Westport-based nonprofit organization dedicated to empowering the parents of children with learning disabilities (LD) and attention deficit disorders (ADHD) via its educational programs, award-winning website and blog, and free e-newsletter at http://www.SmartKidswithLD.org. The organization also educates the public about these children's gifts and talents. Connecticut Governor Dannel Malloy, Anne Ford, and Southport School Head Ben Powers are Honorary Board members. Henry Winkler, Golden Globe award-winning actor, director and author, serves as the organization's Honorary Chairman.
For more information, visit http://www.SmartKidswithLD.org.