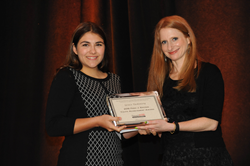 "I loved learning and giving up wasn't an option. . . . My dyslexia allows me to think in different, creative and unique ways."
Westport, CT (PRWEB) October 26, 2016
Smart Kids with Learning Disabilities (SKLD) is pleased to announce that nominations are now being accepted for the 2017 Fred J. Epstein Youth Achievement Award. This $1,000 award recognizes the strengths and accomplishments of young people with learning disabilities (LD) and ADHD. It will be given to a student 19 years old or younger who has demonstrated initiative, talent and determination resulting in a notable accomplishment in any field including art, music, science, math, athletics or community service. Honorable Mentions will also be awarded.
The award will be presented at the organization's 17th Anniversary Benefit Gala in Fairfield County, CT, on an evening to be determined. Transportation and hotel accommodations will be provided for the winning student and his/her parents.
In June 2012, the Award was named in honor of the late Dr. Fred Epstein, the pioneering pediatric neurosurgeon who credited his significant learning disabilities as a major factor in his success. He played an important role in talking openly with children about his own struggles and ultimate success, becoming an inspiration to children with LD.
The winner of the 2016 Award is Grace Taskinsoy of Fountain Hills, AZ. Grace used her struggle with dyslexia as the inspiration to work with lawmakers to develop legislation that mandates student support and teacher education for dyslexia. Grace continues to advocate for students like herself through public outreach. "I loved learning and giving up wasn't an option," Grace said in her acceptance speech. "My dyslexia allows me to think in different, creative and unique ways."
A Special Recognition Award was presented to Sophia Gross of Conshohocken, PA and a Junior Achievement Award to Caragan Olles of DePere, WI. Students from Larkspur, CA; Jupiter, FL; Naperville, IL; Lutz, FL and Palatine, IL received Honorable Mention Awards.
Applications may be submitted by parents, teachers, coaches, mentors or students themselves. Applications may be downloaded from the SKLD website. Please submit the application and documentation by the contest deadline of December 31, 2016 to Smart Kids with Learning Disabilities, 38 Kings Highway North, Westport, CT 06880.
For information, contact us via email at Info(at)SmartKidswithLD(dot)org.
About Smart Kids with Learning Disabilities, Inc.
Smart Kids with Learning Disabilities, Inc. is a Westport-based nonprofit organization dedicated to empowering the parents of children with learning disabilities (LD) and attention deficit disorders (ADHD) via its educational programs, award-winning website and blog, and free e-newsletter. The organization also educates the public about these children's gifts and talents. Connecticut Governor Dannel Malloy is an Honorary Board Member and Henry Winkler, Golden Globe award-winning actor, director and author, serves as the organization's Honorary Chairman.