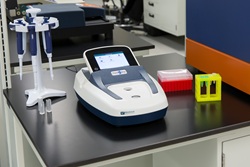 The QuickDrop Micro-Volume Spectrophotometer is an excellent addition to any lab looking to quickly determine DNA/RNA and Protein concentrations from small volumes with minimal effort. The additional cuvette port and kinetic read options nicely complement
Silicon Valley, CA (PRWEB) October 06, 2016
Molecular Devices, a leader in bioanalytical systems for drug discovery, life science research, and bioassay development, today announced the launch of the SpectraMax® QuickDrop™ Micro-Volume Spectrophotometer. The QuickDrop Spectrophotometer addresses the needs of life science researchers who quantify very small amounts of DNA, RNA, oligos, and proteins.  The QuickDrop Spectrophotometer provides researchers with the flexibility to work with micro-volume samples as small as 0.5 µL, preserving their precious samples, or with larger samples using the standard 10 mm cuvette port. The micro-volume sample port features a horizontal light beam and a fixed path length for reliable results regardless of sample viscosity.
The large, high-resolution touch-screen interface gives users the ability to take advantage of pre-configured analysis methods, set up customized experiments with ease, or export data to a USB flash drive for additional analysis. The QuickDrop Spectrophotometer is a stand-alone unit with a small footprint and does not require a dedicated computer to operate. With a four second read-time, the QuickDrop Spectrophotometer sets new standards for speed and accuracy in one affordable unit.
"The QuickDrop Micro-Volume Spectrophotometer is an excellent addition to any lab looking to quickly determine DNA/RNA and Protein concentrations from small volumes with minimal effort. The additional cuvette port and kinetic read options nicely complement our current reader offerings," says Celeste Glazer, Director of Product Marketing, Bioresearch at Molecular Devices. "We are excited to add yet another innovation to our family of readers providing scientists and researchers with the tools to advance protein and cell biology."
About Molecular Devices, LLC
Molecular Devices is one of the world's leading providers of high-performance bioanalytical measurement systems, software and consumables for life science research, pharmaceutical and biotherapeutic development. Included within a broad product portfolio are platforms for high-throughput screening, genomic and cellular analysis, colony selection and microplate detection. These leading-edge products enable scientists to improve productivity and effectiveness, ultimately accelerating research and the discovery of new therapeutics. Molecular Devices is committed to the continual development of innovative solutions for life science applications. The company is headquartered in Silicon Valley, California with offices around the globe.
For more information about the complete product portfolio, visit http://www.moleculardevices.com.