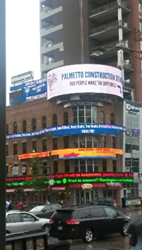 Columbus, OH (PRWEB) October 06, 2016
Columbus Business First honors Palmetto Construction Services, LLC as the employee's' choice for the city's best companies.
The 2016 Best Places to Work list included design-build, general contracting, and project management firm, Palmetto Construction Services, LLC. This is the 12th year Columbus Business First published the rankings and it is Palmetto Construction's first appearance.
Interested businesses applied for consideration. The award-winning businesses were chosen based on the results of employee engagement surveys, conducted by sponsor Quantum Workplace. The surveys evaluated employee opinions on all facets of the work environment.
Palmetto Construction's principal, Casey Cusack, views this as a seal of approval in the recent growth in the company. "In 2015 we applied to be considered for this award," Cusack said. "While we scored extremely high in almost every category, we fell short in the healthcare and benefits category, which kept us from ranking as a highly regarded firm. We heard our work family very clearly and truly appreciated their input."
In order to perform at a higher level, Palmetto took the initiative to listen to employee concerns. "We explored many options and interviewed several providers. We have since implemented what we believe is a very good healthcare plan at the best value for our employees," Cusack said. "As we continue to grow and prosper, we will continue to focus on keeping our family culture."
Palmetto regularly holds company-wide team building events like go-kart racing, trap shooting, and concert events. Palmetto is currently constructing a fitness center at their Franklinton office. "As we grow, we continue to add office space, however, it is also important to preserve space for the well-being of our team. We believe a fitness center will enhance our employee's work-life balance." In July 2016, Palmetto rented the large billboard at the corner of Broad St. and High St. in Downtown Columbus thanking each employee individually.
Palmetto Construction Services is headquartered in the Franklinton area of Columbus, Ohio and also has locations based in Houston, Texas, Irving, Texas and Clearwater, Florida. Palmetto aims to keep the client focused on their business practices, rather than construction progress.
Palmetto adopts several company values, including safety from the top-down, education and communication. Being a true builder, when most construction firms are becoming managers, allows Palmetto's craftsmen to pass their building experience on to their customers through exhibiting high quality workmanship. "We want to make this place different than any other in the industry," Cusack said. "We developed our own ideology in that 'experience the difference' isn't only for our clients."
Palmetto Construction Services will be recognized at the Best Places to Work Celebration Luncheon on Thursday, November 10 at the Hyatt Regency.
For more information, contact Casey Cusack at 614-503-7150.