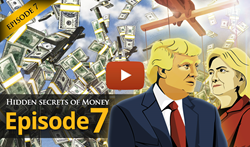 Throughout history economists have suffered 'this time' syndrome. This time, they've figured it out. This time, they've tamed the economy. History gives this a probability of zero.
(PRWEB) October 05, 2016
From 2000 to today, the value of the Dow Jones Industrial Average is down 10%. Despite the record high face values, the average investor has lost value over that period.
Yes, anyone looking at a chart will see the Dow is up 25% since 2000. However, inflation – as measured by the government's Consumer Price Index (CPI) – has devalued the dollar 35% over the same period, a net loss. A 401(k) will buy less today than it did two presidents and four elections ago.
Our two candidates who couldn't seem more different. Yet, when it comes to America's household savings, they are one in the same. Both candidates are for massive spending increases. Government paid college tuition and healthcare on one side, border walls and military build-up on the other.
Unfortunately, our markets are already the midst of an 'invisible crash' that could get much worse. Like the one from 1966 to 1982 that left stock market investors with a net 50% loss in purchasing power. A big jump in already high federal spending now would likely spiral into one of worst combined market and inflationary losses of all time.
In the all new 7th episode of the smash hit mini-series Hidden Secrets of Money – watched by 29 million viewers and counting – economics author and host Mike Maloney shows how it would play out. Drawing on history from America, Europe, and around the world, he shows viewers how a slow and painful 'invisible crash' greeted with headlines of boom times, is a regular occurrence and bound to happen in the U.S. under either candidate if they hold to their promises.
Hidden Secrets of Money has shown millions why they feel less well off today than they did a few years ago, despite record high stock and bond markets and home prices booming again. Now, with episode 7, best-selling author, former 'Rich Dad' advisor, speaker, and viral video star Mike Maloney is back... with a preview of what's to come in markets after this election. Along with special guest, fellow best-selling author and economist, Jim Rickards.
Whether the summer's 'Trump Bump', or the last debate's 'Hill Climb', a rising market is only half the story.
"Throughout history economists have suffered 'this time' syndrome. This time, they've become masters of the economic universe. This time, they've figured it out. This time, they've tamed the economy. This time, a fiat currency will work. History gives this a probability of zero." describes Mike.
See why in Hidden Secrets of Money 7, now available at: http://bit.ly/hsom-7
Or on YouTube at: http://bit.ly/hsom-7-tube
In Mike Maloney's words, "We will vote for people who don't know what they are doing. So the best that we can do, is try to protect ourselves, and even potentially benefit, from government and economist stupidity."
ABOUT HIDDEN SECRETS OF MONEY
Hidden Secrets of Money has exploded into a web sensation. It began as a passion project for noted economics author Mike Maloney, and has reached 29 million viewers, making it one of the world's most popular finance and economic series.
Now in it's 7th full-length episode, the mini-series has tackled issues from current monetary policy to the roots of our economic system, all in clear and crisp terms that anyone can understand. Filled with eye-opening animations and infographics, Hidden Secrets makes the inner workings of the economy accessible to everyone.
All seven episodes of the series can be seen in their entirety at http://bit.ly/hidden-secrets or on YouTube.
ABOUT MIKE MALONEY
The author of the best-selling book on precious metal investing ever published – Guide to Investing in Gold & Silver, now in it's second edition from Rich Dad Press – Mike Maloney is a globally recognized expert and sought after speaker and commentator on precious metals. A serial entrepreneur, with successes in everything from automotive accessories to consumer electronics to ecommerce, Mike discovered the risks in our economic system when he took control of his own family's investments after seeing one money manager after another fail to recognize market cycles and crashes.
He spent years studying the markets and economics, only to discover with dismay that most of the advice he'd ever received ignored fundamental economic concerns: Were the markets efficient and natural? Or were the cycles driven by policy? As Mike came to understand that the currency on which we traded was itself unsound, it became clear why individual investors never seemed to come out ahead -- a historical cycle, seen time and again from Rome to Germany to Russia to Japan to the U.S., when the political system separates money and currency as a stealth tax on workers and savers.
Mike made it his life's mission to wake up the world to these realities and help people secure their financial future with real money savings and diversification out of the ever burning paper of the world's debt-ridden nations. Today, Mike hosts the massively popular Hidden Secrets of Money mini-series, is the founder of one of the world's most trusted precious metal brokers, GoldSilver, and is working on his next book.