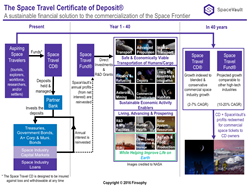 "If you invested in a Space Travel CD today for $10K, it could be redeemed for a SpaceX Mars transport ticket in 40 years. That's more than a 92 percent discount."
SAN FRANCISCO (PRWEB) October 06, 2016
SpaceVault, a new, mission-driven financial platform that will offer digital banking products and services that can be redeemed for a ticket to a commercial space travel destination, such as Mars, has announced its inaugural financial product, the 40-year Space Travel Certificate of Deposit® (CD.)
"Aside from a digital banking platform, SpaceVault will also function like a space travel agency," said Jason Aspiotis, CEO and founder of SpaceVault. "On September 27, Elon Musk detailed plans for regular commercial travel to Mars, estimating a ticket would cost $140K. If you invested in a Space Travel CD today for $10K, it could be redeemed for a SpaceX Mars transport ticket in 40 years. That's more than a 92 percent discount."
The 40-year Space Travel CD will be structured similarly to currently available CDs offered by traditional banks. The principal deposit may be withdrawn at any time prior to maturity. In the future, the company plans to launch Space Benefit® savings accounts and other financial products.
SpaceVault will utilize the majority of its profits to invest in commercial space ventures and provide research and development grants and sponsorships to academic, small business, and citizen-scientist/engineer teams around the world developing low maturity yet critical space technology.
"The team has developed an innovative and pragmatic approach to catalyzing the economic development of space. SpaceVault has the potential to bend the cost curve of space, opening the final frontier to the public in a really exciting, participatory way," said former NASA Administrator Mike Griffin.
"We're planning on financing the future of space tourism and settlement which is quickly becoming a reality. Put simply, SpaceVault offers a way for people to become invested in space in a simple and fiscally conservative way, sustain their excitement for the long term, and secure their legacy as part of humanity's advancement into the frontier," added Aspiotis.
To sign up for a SpaceVault Space Travel CD, visit the SpaceVault website.
About SpaceVault™
Headquartered in San Francisco, CA and established in 2016, SpaceVault is a platform that will offer financial products and services, such as Certificates of Deposit (CDs) and savings accounts. Customers have the ability to redeem their investments for commercial space travel while catalyzing funding to commercial space ventures, companies and technology. SpaceVault has been developed and is owned by Finsophy, Inc. Invest. Inspire. Go to space! For more information visit http://www.SpaceVault.world.