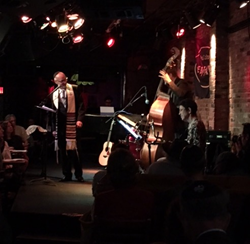 "Thanks to Rabbi Blane for giving my family the opportunity to attend this joyous RH event. They LOVED it!" noted a proud patriarch with three generations attending.
New York, NY (PRWEB) October 05, 2016
On October 3, Sim Shalom E- Synagogue brought down the sold out house with an uplifting service that blended tradition with innovation at the iconic Greenwich Village venue, the Bitter End. Breaking with taboo, the joyous celebration included a repertoire of traditional melodies including Bar'chu and "Hal-le-lu rearranged to jazz arrangements led by Rabbi and Cantor Steven Blane on vocals, and accompanied by seasoned musicians: Jack Glotman on Piano, Carol Sudhalter on sax and flute, Kevin Hailey on bass and Frank Levatino on drums. The applause, a natural expression of enjoyment, is not a likely response in most traditional Synagogues, but the Bitter End is not a traditional setting for a Rosh Hashanah service.
The service received lively participation by the full house and printed copies of the songs were given to each attendee, not in a bound prayerbook, but a program guide adding to the concert style informality. Online followers participated on Facebook live and via interactive chat broadcast on Ustream with other congregants from North America and beyond. The service was streamed by the Bitter End also so viewers had multiple options for enjoying the service.
The Torah, which was brought in especially for the event was covered and placed at the front of the stage. The visual silhouette put in context the evolution of Jewish life. Rabbi Blane punctuated the celebration with jokes that brought levity and gave permission to congregants that with all the heaviness in life today that laughter is powerful medicine. After the Torah was carried by the youngest around the storied venue, Blane provided one last blessing for the New Year. He and the band performed his original song, "When Hearts Listen, Angels Sing," that will be released on his new inspirational album in the spring.
For those that would like to participate in Sim Shalom's Jazz High Holiday service at the Bitter End, Rabbi Blane and the jazz quartet will be doing an encore for Yom Kippur on Wednesday October 12 at 10:30 am EST. It will also be streamed and broadcast for the global Sim Shalom community. Visit the website for more information.
ABOUT SIM SHALOM
Sim Shalom is an interactive online Jewish Universalist synagogue which is liberal in thought and traditional in liturgy. Created in 2009 by Rabbi Steven Blane on Manhattan's Upper West Side, Sim Shalom offers a means of connecting the unconnected. Rabbi Blane leads accessible and short Kabbalt Shabbat services every Friday night using a virtual interface and additionally Sim Shalom provides online education programs, Jazz concerts, conversion and life-cycle ceremonies along with weeknight services at 7:00PM EST led by Rabbis and students of this online community.
Rabbi Blane is also the founder and director of the Jewish Spiritual Leader's Institute,
http://www.jsli.net, the online professional rabbinical program.
Sim Shalom, a non profit 501 © (3) tax-exempt organization, nurtures a Jewish connection through its mission of innovative services, creative education and dynamic outreach to the global community. For more information visit http://www.simshalom.com or call 201-338-0165.