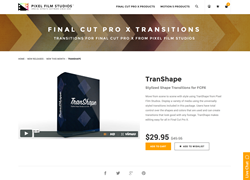 TranShape allows FCPX users to move from scene to scene displaying a variety of stylized transitions that are fully customizable
Aliso Viejo, California (PRWEB) October 08, 2016
"TranShape allows FCPX users to move from scene to scene displaying a variety of stylized transitions that are fully customizable," said Christina Austin - CEO of Pixel Film Studios.
Transition in style using the totally customizable templates included in TranShape from Pixel Film Studios. Users can add an extra level of flair to their videos easily and effectively by placing these transitions in between clips in the Final Cut Pro X Timeline. TranShape lets users create wonders.
Choose a shape for the intro and outro using simple drop-down menus. You can choose to transitions with circles, hexagons, pentagons, triangles, squares and diamonds and use the same shape or a different one for the outro. Users can create a truly endless combination of transitions by changing the shapes.
Users can also use a drop-down menu to change the design. Choose between solid colors, dots and dots over solid colors. Change the colors of the dots and the solids using simple color pickers and edit the dot size with an easy-to-use slider.
TranShape is professionally designed to work effortlessly inside Final Cut Pro X. As a transition, every TranShape preset can be dragged and dropped in between media and previewed in real time. Using the published parameters found in the FCPX Inspector, users have the ability to make further adjustments with only a few clicks of the mouse.
Established in 2006, Aliso Viejo, California-based Pixel Film Studios is an innovative developer of visual effects tools for the post-production and broadcast community. Their products are integrated with popular non-linear editing and compositing products from Apple FCPX. Apple, the Apple logo, Mac OS X, and Macintosh are registered trademarks of Apple Inc. in the U.S. and/or other countries. All other trademarks and trade names are the property of their respective owners.