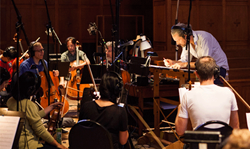 Creative collaboration is the difference between music that's just 'ok' and musical greatness; when creative thinking becomes truly outstanding and inspiring.
Dallas, Texas (PRWEB) October 05, 2016
FirstCom Music, a leading creative music agency has today announced an innovative new custom scoring division, Middle 8 Music. With a solid reputation for crafting effective music and sound design, FirstCom Music introduces a blend of talented new artists, producers and passionate content creators who deliver a collaborative client experience that focuses on producing original music for today's storytellers.
As Sr. VP/Executive Producer Ken Nelson explains, "The power of music has always been abundantly clear. Music should enhance and add emotion to a message, creating an instantly memorable mood and feeling that becomes associated with a specific message or brand. It doesn't take long to captivate an audience if you incorporate the right music into your project. From a 3 second mnemonic to a 5 minute overture, we help our clients harness the power of sonic branding."
As storytellers often struggle with identifying the 'right' music, the creative team at Middle 8 is making it an easy process to access and own the 'right music' for their clients' message or brand.
Middle 8 Music works on the idea of "made-to-measure musicianship." This is achieved by encouraging the individual creativity of their artists along with two-way working relationships with their clients. This is vital to inject that all-important spark of originality and emotion into a story. "This creative collaboration is the difference between music that's just 'ok' and musical greatness; when creative thinking becomes truly outstanding and inspiring. It's also how you know you're getting the 'right' music," said Nelson.
Middle 8's bespoke custom music services offer streamlined access to original music. Whether a made-to-measure advertising campaign, television theme, promo or film score, Middle 8 Music's creative network of artists deliver exactly the sound you are looking for, on time and on budget. With the resources to customize existing music from selected FirstCom Music catalogs the possibilities are also virtually endless. The creative process starts with an intuitive questionnaire that helps identify the key aspects of a project and match the composers and musicians best suited to understanding and interpreting the message effectively.
"We work hand in hand with our clients and include them as much or as little as they like along the way," said Nelson. "Ultimately, our clients will have the ideal piece of music with a creative licensing solution tailored for their needs."
Visit Mid8music.com and explore the possibilities that bespoke music offers.
# # #
About FirstCom Music
FirstCom Music, a leading production music services provider for over 35 years, offers the most comprehensive music solutions worldwide. With more than 225,000 tracks, FirstCom Music is dedicated to providing high quality, easy-to-license music to the production community.
Founded in 1980, FirstCom Music was one of the first to release production music libraries on compact disc. Today, FirstCom Music produces and markets music services for television, radio, and multimedia uses in the U.S. and abroad. FirstCom Music is located in Dallas, Texas with offices in Los Angeles, California.
About Middle 8 Music
Specializing in made-to-measure advertising campaigns, turnkey television themes, promos, and film scoring. Middle 8, a division of FirstCom Music, provides bespoke music services work for entertainment content creators and brands. The company's creative network of artists deliver precisely the sound needed to support clients creative projects.