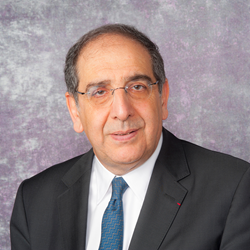 We are delighted that Dr. Sahel has chosen to bring his remarkable talent to UPMC where he will, with immediacy, translate laboratory advances into treatment for patients with visual impairment.
Pittsburgh, PA (PRWEB) October 05, 2016
One of the world's top experts in retinal diseases, who is developing an artificial retina as well as other regenerative therapies to treat blindness and vision impairments, has been named as the chair of the Department of Ophthalmology at the University of Pittsburgh School of Medicine, director of the UPMC Eye Center, and the Eye and Ear Foundation Chair of Ophthalmology.
José-Alain Sahel, M.D., founder and director of the Vision Institute in Paris and currently a professor at the Sorbonne's medical school Université Pierre-et-Marie-Curie, has joined UPMC and Pitt's faculty.
Dr. Sahel is known worldwide for his expertise in vision restoration techniques. He has developed several interventions— including stem cell implantation, gene therapy, innovative pharmacologic approaches and the artificial retina—for retinitis pigmentosa, age-related macular degeneration, vascular eye disease and other vision impairments that currently are untreatable. Over the past decade he has led pioneering efforts in optogenetic vision restoration, a technique in which cells in the retina are genetically modified to express light sensitive proteins. This therapeutic technique has the potential to help patients who are blind or visually impaired as a result of a genetic defect.
He also brings a strong neuroscience perspective to ophthalmology research, such as exploring the application of brain-computer interface technology, for which Pitt and UPMC are well known.
"We are delighted that Dr. Sahel has chosen to bring his remarkable talent to UPMC where he will, with immediacy, translate laboratory advances into treatment for patients with visual impairment," said Steve Shapiro, M.D., chief medical and scientific officer at UPMC. "His creativity and commitment to bringing everything from rigorous basic science to eyesight-saving surgery to patient care are unparalleled. With his leadership, we expect to build on the amazing accomplishments he already has achieved in Paris as well as break new ground in vision research and care."
"Dr. Sahel is a gifted physician-scientist with a heartfelt dedication to his patients and a broad intellectual reach. His work will soon have great impact on the ophthalmology department, on bench-to-bedside treatments for patients, and also on Pitt as a whole," said Arthur S. Levine, M.D., Pitt's senior vice chancellor for the health sciences and John and Gertrude Petersen Dean of Medicine.
Dr. Sahel will sustain his engagement with the Vision Institute, one of the world's largest centers of integrated research on eye diseases, through a partnership formed between the Institute, the Sorbonne, Pitt School of Medicine and UPMC.
"I am very impressed with the strong support and energy at UPMC and Pitt, and share their objectives of developing creative new treatments and diagnostic tools to better serve patients," Dr. Sahel said. "It was clear to me during my visits that the community is warm and welcoming, and rightfully proud of its city. I look forward to contributing to these impressive academic and health care legacies."
As director of UPMC Eye Center, which is rated among the top ophthalmology programs in the United States in the delivery of care, Dr. Sahel will see patients, particularly those with complex diseases, and will lead UPMC clinicians in the diagnosis and treatment of both common and unusual eye disorders. The UPMC Eye Center is home to an outstanding ophthalmology teaching program that trains residents and clinical fellows in their pursuit of clinical, research and clinician-scientist careers.
Dr. Sahel is a co-inventor on more than 40 patents, several of which have led to start-up companies including Fovéa Inc., which Dr. Sahel founded and later became the Ophthalmologic Division of Sanofi Aventis. He also is a scientific co-founder of GenSight Biologics Inc. and Pixium Vision Inc. He is a member of 11 editorial boards, including the Journal of Clinical Investigation and Science Translational Medicine.
He also holds the positions of Cumberlege Professor of Biomedical Sciences at the Institute of Ophthalmology, University College London, and chairman of the Departments of Ophthalmology at the Quinze-Vingts National Eye Hospital and at the Rothschild Ophthalmology Foundation, both in Paris. At the Paris-based Ophthalmology Clinical Investigation Center, he oversees more than 50 clinical trials, many of which are focused on retinal implants, gene therapy and other advanced biomedical technologies. He also heads the French National Reference Center for Retinal Dystrophies and chairs a network of more than 90 European clinical trial centers focused on retinal diseases.
He has been the recipient of numerous honors and awards, which include membership in the Legion of Honour (2008); the National Order of Merit (2002) and induction into the Collège de France, the highest honor awarded to a French scientist. He is an elected member of the Académie des sciences-Institut de France, the Académie des technologies, the Academia Ophthalmologia Internationalis and the German National Academy of Sciences. He has also received the Grand Prix for Neurosciences of the Foundation NRJ, Institut de France; the CNRS Medal of Innovation; the Foundation for Fighting Blindness Trustee Award and the Liura Liggett-Gund Award, among others. Dr. Sahel holds an honorary degree from the University of Geneva.
Dr. Sahel, who was born in Algeria, studied medicine at Strasbourg University and in Lariboisière, Saint-Louis. He received his medical degree with a Medal of the Faculty of Paris and obtained his specialty certification in ophthalmology. He completed a residency in neurology and neurosurgery at the Louis Pasteur University Hospital in Strasbourg. He also was a research fellow at the Massachusetts Eye and Ear Infirmary and a visiting scholar in the Department of Molecular and Cellular Biology at Harvard University.
# # #
About the University of Pittsburgh School of Medicine
As one of the nation's leading academic centers for biomedical research, the University of Pittsburgh School of Medicine integrates advanced technology with basic science across a broad range of disciplines in a continuous quest to harness the power of new knowledge and improve the human condition. Driven mainly by the School of Medicine and its affiliates, Pitt has ranked among the top 10 recipients of funding from the National Institutes of Health since 1998. In rankings recently released by the National Science Foundation, Pitt ranked fifth among all American universities in total federal science and engineering research and development support.
Likewise, the School of Medicine is equally committed to advancing the quality and strength of its medical and graduate education programs, for which it is recognized as an innovative leader, and to training highly skilled, compassionate clinicians and creative scientists well-equipped to engage in world-class research. The School of Medicine is the academic partner of UPMC, which has collaborated with the University to raise the standard of medical excellence in Pittsburgh and to position health care as a driving force behind the region's economy. For more information about the School of Medicine, see http://www.medschool.pitt.edu.
About UPMC
A world-renowned health care provider and insurer, Pittsburgh-based UPMC is inventing new models of patient-centered, cost-effective, accountable care. It provides more than $892 million a year in benefits to its communities, including more care to the region's most vulnerable citizens than any other health care institution. The largest nongovernmental employer in Pennsylvania, UPMC integrates 60,000 employees, more than 20 hospitals, more than 500 doctors' offices and outpatient sites, and a more than 2.9 million-member Insurance Services Division, the largest medical and behavioral health services insurer in western Pennsylvania. Affiliated with the University of Pittsburgh Schools of the Health Sciences, UPMC ranks No. 13 in the prestigious U.S. News & World Report annual Honor Roll of America's Best Hospitals. UPMC Enterprises functions as the innovation and commercialization arm of UPMC while UPMC International provides hands-on health care and management services with partners in 12 countries on four continents. For more information, go to UPMC.com.