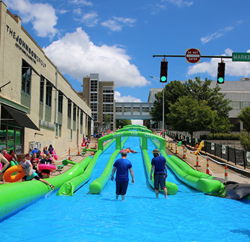 We are already working with new locations and introducing new ideas to make this season the best yet
Salt Lake City, UT (PRWEB) October 05, 2016
Adventure seekers slid through city streets on inner tubes when Slide the City, owned by Sack Lunch Productions Inc. (OTC:SAKL), stopped in locations worldwide. After their second successful season, event organizers are already planning for their third tour coming summer 2017.
"Slide the City is a very unique event," said Slide the City spokeswoman Amy Gessel. "You could be stuck in traffic on a Friday evening and sliding down the same street on an inner tube the next morning. It is a way for people to see their hometown from a whole new angle."
More than 140,000 participants in 89 locations beat the heat on the one-of-a-kind slide this summer. Sliders in the US, China, Malaysia, Columbia, Canada, Japan and other countries splashed down three city blocks and joined the summer celebration. This year, Slide the City brought a block party complete with music, games, vendors and more.
"2017 is just around the corner," said Slide the City co-owner John Malfatto. "We are already working with new locations and introducing new ideas to make this season the best yet."
Thirty-five locations in the US and Canada are already confirmed for 2017, and event organizers anticipate over 80 events worldwide. Locations include: Calgary, Edmonton, Colorado Springs, Reno, Dallas, Omaha, St. Louis, Kansas City, Cincinnati, Raleigh, Washington DC and Baltimore. Event organizers will continue to add locations to their website weekly.
All those over 5 years of age and 46 inches tall are welcome to slide! Visit http://www.slidethecity.com for more information about dates and locations or see what fans have to say on the Slide the City Facebook page https://www.facebook.com/slidethecity
About Slide the City
Slide the City, owned by Sack Lunch Productions Inc. (OTC:SAKL),has seen massive growth since its beginnings in 2014. In July 2015, the event won the Guinness World Record "Longest Distance Slid on a Slip 'n Slide" after thrill seekers sped down a colossal 2.5 million feet one hour. During the two summer tours, more than 320,000 participants have splashed down the one-of-a-kind slide. The family-friendly company brings its massive slide to locations from coast-to-coast. With music, local vendors, activities and more, city streets are transformed into the biggest block party of the summer.