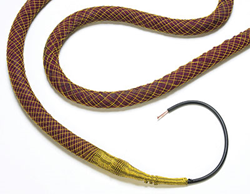 Chalfont, PA (PRWEB) October 05, 2016
MATCOR, Inc., the trusted full-service provider of proprietary cathodic protection products, systems, services and corrosion engineering solutions announces the issuance of US Patent No. 9,410,253 for its SPL-SandAnode, an impressed current linear anode that prevents corrosion of above ground storage tank bottoms (ASTs).
Invented by Glenn Shreffler, executive vice president of engineering for MATCOR, the SPL-SandAnode is the only impressed current linear anode designed specifically for tank bottom replacement projects. These applications typically have six inches (150 mm) or less of sand where the anode is to be installed.
The recommended cathodic protection system for most ASTs is a tank ring anode cathodic protection system that utilizes linear anodes in a concentric ring configuration. However, when the clearance between the tank bottom and anode is less than 6-inches (150 mm), the SPL-SandAnode is used, either in the concentric ring configuration or in parallel linear lengths. The prepackaged linear anode with a sand backfill, in lieu of calcined coke, allows the anode to be simply laid out on the foundation while easily maintaining the maximum separation distance of the anode to the tank bottom.
The SPL-SandAnode is one of MATCOR's SPL™ Anode Series, a complete line of flexible impressed current linear anodes utilizing MMO anode technology to support a broad range of cathodic protection applications. Advantages of MATCOR's linear anodes include:

Single package design
Uniform current distribution
Flexible cathodic protection system
Waterproof Kynex® anode to cable connections
To learn more about the SPL-SandAnode, please visit http://www.matcor.com/sandanode
About MATCOR
MATCOR is a Brand Energy & Infrastructure Services (BEIS) company. In business for over 40 years, MATCOR provides services and products that solve corrosion problems globally for major infrastructure assets such as oil, gas and water pipelines, above ground storage tanks, power plants, energy facilities, well casings and steel-in-concrete structures. MATCOR is a turnkey ISO 9001:2008 certified provider of customized cathodic protection products and systems combined with high-quality corrosion engineering, installation and maintenance services. The company maintains specialized CIS (close interval survey) teams and a large fleet of construction equipment. MATCOR's manufacturing plant is located in Chalfont, PA, USA and the company maintains field service and sales offices in Texas, Oklahoma, Wyoming, Colorado, Western Pennsylvania, Georgia and North Dakota, in addition to a growing list of international distributors.