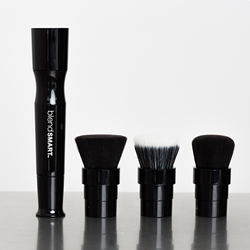 "As a professional makeup artist, I am always asked how to achieve natural looking coverage. blendSMART's spinning application blends for you and eliminates lines and streaks," explains Houston-based Victoria Callaway.
Houston, Texas (PRWEB) October 06, 2016
The beauty industry is preparing for a makeover. Consumers of all ages are gravitating to products and tools that allow for easy-use and multi-functionality. On October 4th, blendSMART, a first-of-its-kind rotating makeup brush system, launched two new interchangeable brush heads at Sephora.com in response to the market's desire for buildable makeup coverage through contouring, defining and finishing. While the skincare industry has been an early adopter of technology with automated tools like the Clarisonic, blendSMART is the first to utilize mechanical technology in a makeup brush.
The brush's calibrated head spins at 190 RPM and mimics the motion of professional makeup artists to deliver an airbrush-like result. The motorized, ergonomic handle is contoured for both comfort and control and was design-engineered with a self-standing base. Additionally, the handle accommodates all certified interchangeable brush heads which are made of premium synthetic fibers that are antimicrobial. The blendSMART starter kit comes with a foundation brush head, automated handle, and long-lasting battery retailing for $69.00.
The product, launched in the spring of 2015 through a worldwide home shopping network, sold out in all markets including the US, UK, Italy, and Germany. blendSMART has sold over 90,000 units since its début and was nominated as a 2015 QVC Customer Choice Beauty Award for best beauty innovation and is a finalist in the 2016 #beauty20 Los Angeles Award for Best Beauty Start-up : http://innocosdigital.com/consumer-choice-beauty20-awards-shortlist-los-angeles/.
blendSMART launched online at Sephora.com in late March 2016 and appears to be in alignment with Sephora's investment in its San Francisco based "Innovation Lab," whose mission is developing and testing new technology for stores and e-commerce. The blendSMART application system offers additional brushes for blush, powder, definer and full-coverage/finishing which can be purchased separately for $26.00. For more information, please visit http://www.blendsmart.com.
Available: Sephora.com /blendsmart.com/ and specialty retailers worldwide