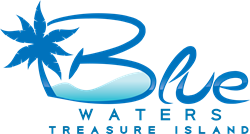 "We have taken several months to correct Blue Waters' issues and gave the property a much-needed website, top of the line wifi, updated facilities, and created a brand new rewards program with local businesses like Caddy's." - Brian Davison
Treasure Island, Florida (PRWEB) October 06, 2016
The real estate investment firm, EquiAlt, is excited to announce their purchase of Blue Waters Beach Club on Treasure Island, FL. The property, located at 8105 W. Gulf Blvd, was sold in an all-cash transaction from a local credit union that had foreclosed on the property. The 13 unit bungalow resort consists of two, one and studio room style accommodations and can hold up to 54 guests. Those who stay at Blue Waters enjoy unobstructed water access thanks to the neighboring state park. The team who is spearheading this project is thrilled to bring new life to Treasure Island.
In recent years, Blue Waters had suffered from poor management and upkeep. Guests were not satisfied with their accommodations, and the beach club's online reputation reflected this. Since EquiAlt stepped in, there has been substantial improvements ranging from modernization of amenities to incorporating the local community into the guest experience.
When we asked EquiAlt CEO Brian Davison about the Blue Waters purchase and the number of upgrades needed, he stated "All the properties we work with are value added propositions - our portfolio is comprised of foreclosed or distress properties. Some are in need of physical or legal repair and some, like Blue Waters, need attentive and active management."
Guests have a wide variety of rooming options. From seaside cottages to poolside studios, those visiting Treasure Island will have a personalized and enjoyable stay. Amenities such as premium wireless internet, kayak and bike rentals, fully stocked kitchens, and heated pools are now available. A major reason guests flock to the newly renovated Blue Waters is for its location to the beach and one of Tampa Bay's famous attractions, "Caddy's on the Beach." One of Florida's most popular bar and grill spots is within walking distance to Blue Waters and according to Davison, the beach club guests have a special place at Caddy's tables.
"We have taken several months to correct Blue Waters' issues and gave the property a much-needed website, top of the line wifi, updated facilities, and created a brand new rewards program with local businesses like Caddy's," Davison said.
EquiAlt has gone so far as to dedicate staff to oversee the site and solicit guest feedback to improve the experience. The local community wishes EquiAlt and Blue Waters the best of luck in the new chapter of this charming beach community.
To learn more about Blue Waters, contact Brian Davison, CEO of EquiAlt:
brian(at)equialt(dot)com
1.855.EquiAlt
http://www.EquiAlt.com