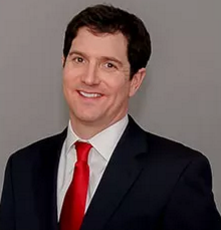 Durham, NC (PRWEB) October 06, 2016
Matthew Healey, workers' compensation attorney with the Law Offices of James Scott Farrin, spoke at the North Carolina Advocates for Justice (NCAJ) Continuing Legal Education Seminar, September 16th.
The all-day event, which was held at NCAJ headquarters in Raleigh, focused on "Quirky Issues in Workers' Comp."
Healey, who is a long-time member of the NCAJ, spoke on the topic of "How to Pay Back Medical Providers in Settled but Denied Claims."
"The NCAJ puts on some of the best CLE programs in the state of North Carolina, and it was a privilege to be a part of this program. The issue of paying medical providers in denied claims is extremely important. Because the law in this area is a bit unsettled, it was the perfect topic for a fruitful discussion among legal peers," Healey said.
Healey joined the Law Offices of James Scott Farrin in 2015 and was recently selected by his peers to be among the 2017 Best Lawyers in America* in the field of workers' compensation law, the fifth consecutive year Healey received this award. Healey was also listed in the publication as Raleigh's workers' compensation "Lawyer of the Year"* for 2017, a designation he had previously received in 2015. Additionally, North Carolina Super Lawyers Magazine has listed Healey as a "Super Lawyer"** since 2014, and "Rising Star"** from 2010 to 2013.
The North Carolina Advocates for Justice is a nonpartisan association of legal professionals dedicated to protecting people's rights through community, education, and advocacy for over 50 years. Healey has been a CLE speaker with the NCAJ for nearly eight years.
ABOUT THE LAW OFFICES OF JAMES SCOTT FARRIN
The Law Offices of James Scott Farrin is headquartered in the American Tobacco Historic District, adjacent to the Durham Bulls Athletic Park, in Durham, North Carolina, with 13 additional offices statewide in Charlotte, Fayetteville, Greensboro, Greenville, Goldsboro, Henderson, New Bern, Raleigh, Roanoke Rapids, Rocky Mount, Sanford, Wilson, and Winston-Salem. The firm's 38 attorneys focus on the following practice areas: Personal Injury, Workers' Compensation, Social Security Disability, Eminent Domain, Intellectual Property, Civil Rights, Mass Torts, and Products Liability. Six of the attorneys are North Carolina Board Certified Specialists in Workers' Compensation Law and one is a North Carolina Board Certified Specialist in Social Security Disability Law. The Law Offices of James Scott Farrin is involved in the community, including sponsorship of local philanthropic organizations.
*For more information regarding the standards for inclusion, visit http://www.bestlawyers.com.
**For more information regarding the standards for inclusion, visit http://www.superlawyers.com.
Contact Information:
David Chamberlin
280 S. Mangum Street, Suite 400
Durham, NC 27701
866-900-7078
http://www.farrin.com