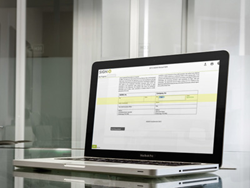 Our integration with SIGNiX optimizes the last mile of compliant contracting, and we're excited to showcase a live demonstration during the webinar
CHATTANOOGA, Tenn. (PRWEB) October 05, 2016
SIGNiX, the leading provider of cloud-based Independent E-Signature™ solutions, announced today that they, along with their partner, Atlas Systems, Inc. DBA ComplyScore, will co-host a free webinar to review their joint solution, which offers automated regulatory compliance, information security and vendor governance. During the webinar, SIGNiX and ComplyScore will specifically discuss how to reduce risk and improve the top line by embedding e-signatures into business workflows in highly regulated industries. The hour-long webinar is scheduled for October 20, at 12 p.m. Eastern Standard Time.
During this webinar, SIGNiX and ComplyScore will cover:

Which business processes gain significant efficiencies from e-signatures
How choosing the incorrect e-signature technology could invalidate signed business contracts and documents
Best practices in implementing e-signatures
How to embed e-signatures into your workflow
"This webinar will benefit organizations in highly regulated industries interested in learning about the successful use cases of implementing e-signatures and the many options available for utilizing e-signatures," said Leonora Williamson, senior vice president of partner development at SIGNiX. "Attendees will also learn how to choose the right technology for their specific business needs."
SIGNiX's Independent E-Signatures™ adhere to international, published standards, so the e-signed documents remain valid forever. And because the legal evidence of the signature is permanently embedded into the signed document using public key infrastructure, there's no need to rely on SIGNiX to prove the validity of a signature. Users can verify e-signatures through any free PDF viewer, even without an Internet connection.
"We're thrilled to be co-hosting this webinar alongside our partner SIGNiX," said Farhan Kidwai, vice president of partnerships and strategic alliance at ComplyScore. "Our integration with SIGNiX optimizes the last mile of compliant contracting, and we're excited to showcase a live demonstration during the webinar."
To learn more about the webinar and to register, visit: http://www.complyscore.com/event-directory/reduce-risk-improve-top-line-by-embedding-esignatures/
About SIGNiX: 
SIGNiX, the most trusted name in Independent E-Signatures™, makes signing documents online safe and secure with comprehensive legal evidence permanently embedded isn each document to eliminate any dependence upon SIGNiX. The company's cloud-based service uses patented technology to give businesses and organizations the most secure and legally defensible e-signatures available at a fraction of the cost of wet ink signatures. SIGNiX's products help the world's leading companies become more efficient, decrease risk and boost profits. For more information, visit http://www.signix.com. You can also follow SIGNiX on Twitter @signixsolutions, LinkedIn, Facebook and Instagram.
About ComplyScore:
ComplyScore, a registered trademark of Atlas Systems, develops and markets a comprehensive suite of software solutions and related services to address compelling requirements for auditable enterprise GRC management processes. ComplyScore's web-based solutions integrate governance, risk and compliance management across core operational business areas, including Vendor (3P) and Information Security Management. For more information about ComplyScore, email info(at)complyscore(dot)com , or visit http://www.complyscore.com or call аt +1 844 452 0101.
About Atlas Systems, Inc.: 
Atlas Systems, Inc. is a leading technology innovator, offering software and service solutions to global and mid-market companies in a range of different industries, including automotive, finance, health care, publishing and telecommunications. It provides comprehensive range of solutions in the area of Technology, GRC, Provider and Oracle to customers across the globe. The company's goal is to deliver serious and competitively priced products and services to clients that add business value and have positive impact on their business. For more information, visit http://www.atlassystems.com.