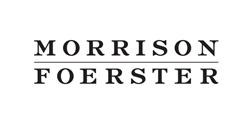 New York, NY (PRWEB) October 05, 2016
Morrison & Foerster, a leading global law firm, is pleased to announce that Tracy Bacigalupo has joined the firm's New York office as a partner in the Corporate Department. Ms. Bacigalupo comes to Morrison & Foerster from Foley & Lardner LLP where she was a partner. She brings with her substantial experience working with real estate investment trusts, investment companies, asset managers, other financial institutions, and emerging companies.
"We are pleased to welcome Tracy to Morrison & Foerster. Her expertise will be invaluable as we continue to strengthen our corporate offerings to meet the needs of our clients," Tom Knox, co-chair of the firm's 390-lawyer Global Corporate Department, said. "Tracy's arrival is another example of the success of our strategy to expand the department in technology and financial centers around the world. Just this year, we've grown our corporate ranks by attracting a number of new partners including Patrick Huard, Alex Kaufman and Sara Terheggen in the San Francisco Bay Area, Andrew Boyd, Gary Brown and Oliver Rochman in London, and Chuan Sun and Vivian Yiu in Hong Kong."
Spencer Klein, co-chair of the firm's Global Mergers & Acquisitions Group and head of the Corporate Department in New York, added: "Tracy is a terrific addition. She brings to us a wealth of corporate and transactional M&A experience. Tracy's strong relationships with a range of financial institutions and emerging companies are ideally complementary to our corporate platform in New York."
Ms. Bacigalupo focuses on advising both public and private companies in connection with acquisitions, mergers, divestitures, and other key collaborations. Ms. Bacigalupo also counsels open- and closed-end investment companies and real estate companies, including real estate investment trusts, on a broad range of issues including strategic transactions, capital markets transactions, financings, and corporate governance. Ms. Bacigalupo earned her J.D. from Washington and Lee University and her B.A. from Hollins College. She is admitted to practice in New York, Washington, D.C., and Maryland.
"Morrison & Foerster's broad and deep bench of excellent lawyers will be a tremendous resource to my clients, enabling me to offer sophisticated, cutting edge legal services and to more efficiently facilitate business objectives for clients in New York and globally," said Ms. Bacigalupo. "I look forward to working with my new colleagues and to helping extend the firm's corporate practice in New York."
Ms. Bacigalupo's arrival comes at a time when Morrison & Foerster has advised on numerous significant M&A deals over recent months. Highlights include:

Representing SoftBank in its $31.4 billion acquisition of ARM, the biggest public M&A deal in the UK and largest M&A deal following the Brexit vote;
Representing Wal-Mart in its $1.5 billion strategic alliance with JD.com, a leading e-commerce company in China;
Representing SoftBank in its $8.6 billion sale of Finnish gaming company Supercell to China's Tencent, one of the most significant cross-border deals of 2016;
Representing Unilever in its acquisition of Dollar Shave Club, one of the largest ever deals in the e-commerce industry; and
Representing the independent members of the board of directors of Polycom in the company's $2 billion all-cash merger with Siris Capital Group
ABOUT MOFO
We are Morrison & Foerster — a global firm of exceptional credentials. Our clients include some of the largest financial institutions, investment banks, Fortune 100, and technology and life sciences companies. The Financial Times has named the firm to its lists of most innovative law firms in North America and Asia every year that it has published its Innovative Lawyers Reports in those regions. In the past few years, Chambers USA has honored MoFo's Bankruptcy and IP teams with Firm of the Year awards, the Corporate/M&A team with a client service award, and the firm as a whole as Global USA Firm of the Year. Our lawyers are committed to achieving innovative and business-minded results for our clients, while preserving the differences that make us stronger.