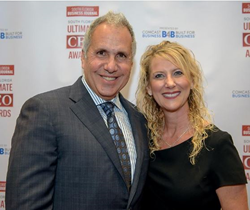 It is a fitting honor for someone who has contributed both personally and professionally
Fort Lauderdale, FL (PRWEB) October 05, 2016
Steve Sadaka, Chairman and CEO of Steven Douglas Associates, was honored last week by The South Florida Business Journal as an Ultimate CEO. In its inaugural year, this event was created to honor visionary business leaders who have helped shape South Florida through their expertise, leadership and community involvement. The event had more than 350 attendees from the tri-county area and raised over $30,000 for local United Way chapters.
"Steve Sadaka founded our firm 32 years ago and has been a fixture in this community and part of its immense growth," said Matt Shore, President of Steven Douglas Associates. "It is a fitting honor for someone who has contributed both personally and professionally– through his philanthropic work and through his leadership at Steven Douglas Associates. We are very proud of his accomplishments."
"I am extremely honored and grateful to receive this prestigious award and to be recognized among a great group of CEOs," Steve Sadaka said, "I would also like to thank my family, the team at Steven Douglas, and our long time clients and candidates who have been an important part of our success for more than three decades. I plan on continuing our efforts to positively impact businesses and our community for years to come."
Steven Douglas Associates, one of the nation's leading boutique search and project resources firms, has been a recognized leader in identifying and providing access to top talent for corporate clients since 1984. The client base is industry agnostic and ranges from start-ups and emerging middle-market to Fortune 500 companies and public, private and private equity owned firms.
The firm is composed of two synergistic divisions: The Search Division is focused on placing professional staff to executive level management in the areas of Finance and Accounting, Financial Services, Information Technology, Sales, Marketing, Operations, Human Resources and Health Services. The Interim and Project Services Division helps businesses effectively manage change by providing them access to experienced and talented professionals on an as-needed and variable basis in the areas of Finance and Accounting, Information Technology, and Human Resources.