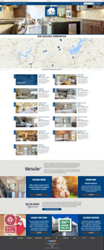 Atlanta, GA (PRWEB) October 05, 2016
mRELEVANCE, LLC recently built a new website for Atlanta home builder KM Homes. The previous KM Homes site was around 10 years old, which is archaic in the web development world. The site was outdated by all current web development and design standards, and it was in desperate need of a new build from the ground up.
mRELEVANCE was chosen for its ability to provide a cutting-edge website with a fresh, modern design that incorporates a user-friendly content management system, top SEO tactics and mobile-friendly capabilities. The new site provides much more support for better functionality, higher quality images, and better HTML/CSS standards, which allows it to both perform better and look better from the front-end and the back-end.
"We knew our website was outdated and in need of a refresh, and when we made the decision to move forward on building a new one, we knew we wanted mRELEVANCE to be the company to do it," said Amanda Marvin, marketing manager with KM Homes.
The new http://www.KMHomes.com features a responsive design that is a major upgrade from the old site, which was not mobile friendly in any way. The new design also allows plenty of opportunity for web browsers to see KM's luxury homes with beautiful photography.
Home buyers will have a much easier time finding the information they need on the new site, which has more streamlined navigation that can always be found at the top of the site. Several pages were combined from the old site, and the site features new content with relevant information for today's buyers.
When those potential buyers find the information they need and are ready to reach out to the KM Homes team, they'll be able to do so more easily than ever before. Quick phone number, chat or direction icons are available on every page, and the main Contact Us page can be reached no matter where browsers are on the site. These simple updates will make buyers' lives easier while also providing KM Homes with more lead generation thanks to its ease of use.
Most importantly for the KM Homes team tasked with updating the website, the new content management system allows for everyone, even non-technical people, to easily update the site with new information as needed. This means buyers will get real-time information, as the team can quickly add new communities or available homes, remove sold homes, update photography and so much more.
"Our content management system is one of the unique assets that we're able to provide our web development clients that they can't get anywhere else," said David Stiles, lead web developer and technical team manager with mRELEVANCE. "I think it sets us apart from other web design companies, and it really allows our clients to have nearly total control over their website. Marketing managers and the IT team alike will be able to use it easily and update it as quickly and as often as needed, typically with very little help or assistance from our team."
Finally, the new KM Homes website includes a blog, which the old website did not have. This will be a great place for the new home builder to share information about communities, events, available homes and more. In addition, the blog is one of many ways this site will feature improved SEO, as the regularly updated content will help to keep the site ranking high.
Contact Marketing RELEVANCE to learn more about its web development services at http://www.MarketingRELEVANCE.com or 849-259-7312.
About Marketing RELEVANCE: mRELEVANCE, LLC creates relevant marketing and communications that reach audiences with focused and strategic messages. Through technology and creative content, messages are delivered to target markets to encourage customer action and interaction.
With offices in Atlanta and Chicago, mRELEVANCE can connect your company with buyers and build relevant relationships nationwide. For more information, visit http://www.MarketingRELEVANCE.com, Like us on Facebook at http://www.Facebook.com/mRELEVANCE, Follow us on Twitter at @mRELEVANCE or call 770-383-3360 or 847-259-7312.