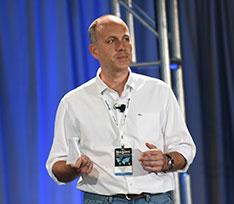 I'm excited to share what I've learned with other aspiring entrepreneurs in the Open Source community. - CEO and Founder Ethan Galstad
(PRWEB) October 05, 2016
Ethan Galstad, Founder and CEO of Nagios, will be giving the keynote presentation at Ohio LinuxFest 2016, this coming Saturday, October 8th at the Hyatt Regency in Columbus, Ohio. The Keynote will highlight the benefits of the entrepreneurial spirit, what it takes to be a founder, and lessons learned along the way of building a successful software startup with its roots in Open Source. He'll go into the advantages that Open Source software provides entrepreneurs and how organizations can leverage technology and its own expertise to kickstart their own entrepreneurial venture.
Ethan will share tips and tricks he has learned along the way, as well as things aspiring entrepreneurs will love, hate, and accomplish along their own journey. "I'm excited to share what I've learned with other aspiring entrepreneurs in the Open Source community," said Nagios President and Founder Ethan Galstad. Ethan will be speaking on Saturday, October 8th at 9:00 AM.
Ohio LinuxFest is free to attend but there are several upgrade options available for attendees. Attendees will have access to non-professional Friday content such as the Early Penguins talks, keynote, happy hour, and Birds of a Feather sessions as well as all tracks of talks on Saturday, plus the Sponsor/Vendor Expo floors. The large expo area adjacent to the conference rooms will feature exhibits from sponsors as well as a large .org section from non-profit Open Source/Free Software projects.
Originally from Wisconsin, Ethan moved to Minnesota to study Computer Science at the University of Minnesota. He held a variety of jobs in desktop support, server administration, and web development before delving into the crazy world of entrepreneurship. He currently serves as President and CEO of Nagios Enterprises, which has grown from a small, bootstrapped startup into a successful company with over 30 employees and thousands of customers worldwide.
For more information visit, https://ohiolinux.org/
--
With multiple awards, notable users in every vertical and horizontal sector, and thousands of add-ons and extensions, Nagios is the industry standard in IT infrastructure monitoring. Nagios provides critical monitoring and alerting for networks, systems, applications, metrics, and business processes. Nagios Enterprises is the official commercial arm of Nagios and provides value-added services, products, and solutions to clients worldwide.