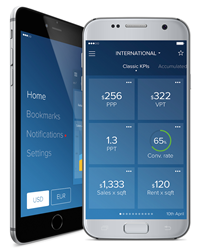 10% + 90% We CONNECT the other 90% of the people that never had access to the information. This is the empowerment that every company needs. Get connected.
MIAMI (PRWEB) October 05, 2016
With hundreds of new stores connected every month, RetailAppTM is changing the way retailers operate and communicate with their teams around the world.
RetailApp is a revolutionary, multi-display, platform designed to connect employees in seconds and empowering teams to reach their performance goals. RetailApp includes individual and group key performance indicators, sales goals, sales forecasting and an enterprise social platform, which focuses on driving business and motivating sales teams.
This month Salvatore Ferragamo and Danone have joined the large portfolio of companies who have adopted this unique platform. Gonzalo Almada, co-founder and CEO of RetailApp stated that "we are very happy to welcome Salvatore Ferragamo and Danone to our client family. Their support provides further proof that RetailApp is quickly become the standard for rapid, mobile business analysis."
Gonzalo Almada believes that the industry lacked a product designed for this particular need. "I spent 20 years working as an executive at leading large retailers. My biggest challenge was making sure that everyone from the CEO to sales assistant at the store had the information they needed when they needed it to do their job better. Before RetailApp there was a total disconnect between who needed information and who actually had access to it. With RetailApp any employee with a smartphone now becomes empowered with real- time data curated for their position within the company. This is revolutionary."
RetailApp operates as a Software-as-a-Service (SAAS) company. It can roll out its solution to a large client in 2 weeks, providing a huge advantage over other solutions which can take months to roll out. "The retail sector is
facing transformative pressures like I've never seen before. We at RetailApp are convinced that the retailers that will thrive in the future are those that empower employees with the right information at the right time to make better, customer-centric decisions."
ABOUT RETAILAPP
RetailAppTM is the first Retail Business Analytics software designed by retailers for retailers. The mobile-first solution offers retailers a real-time view of their business through a unique interface, with customizable access for everyone from the sales assistant up to the CEO. RetailApp includes an integrated secure communications platform and social platform for employees. Based in Miami, RetailApp has clients in the United States, Latin America and Caribbean, and it is about to open its subsidiary in Europe.
Available on iOS, Android and Chrome. For more information, visit http://www.retailapp.com or email info(at)retailapp(dot)com