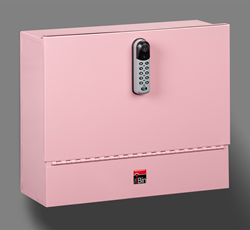 Chicago, IL (PRWEB) October 06, 2016
iBin America today announced that they have created a first of a kind pink iBin Courier Bin to help raise awareness for the support of those affected by breast cancer. One in eight women will be diagnosed with breast cancer. iBin America will give 100% of the added profits from its custom pink iBin for one full year Oct 2016 thru Oct 2017 to National Breast Cancer Foundation, Inc.(R) (NBCF). Each Bin will be fitted with the iBin's signature weatherproof digital lock. This lock will allow multiple couriers to use the same courier box (outdoors or indoors). Courier Bins are used throughout America's health care networks, including doctor's offices and hospitals for the pickup and drop off of specimens. Most recently courier bins are used for secure mail deliveries as well. The goal is to have at least one pink iBin courier box in every health care office, hospital, and doctor's office to help raise awareness of breast cancer and funds to support NBCF.
Visit http://www.ltdistributing.net to help support NBCF with the new pink courier bin.
About National Breast Cancer Foundation, Inc.®
 
Recognized as one of the leading breast cancer organizations in the world, National Breast Cancer Foundation (NBCF) is Helping Women Now® by providing early detection, education and support services to those affected by breast cancer.  A recipient of Charity Navigator's highest 4-star rating for twelve years, NBCF provides support through their National Mammography, Patient Navigation, Beyond The Shock, breast health education, and research programs. For more information, please visit http://www.nbcf.org.