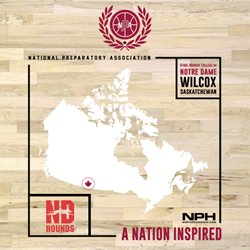 WILCOX, Saskatchewan, Canada (PRWEB) October 11, 2016
(October 11, 2016) – Already a respected powerhouse in the hockey arena, Athol Murray College of Notre Dame is pleased to announce their formal participation in basketball's National Preparatory Association League.
Their involvement, possible thanks to collaboration with North Pole Hoops, positions the second year men's basketball team with an intense competitive edge for the following season. With a wide, bi-coastal reach, Athol Murray plans to add additional opportunity and diversity to this growing league.
The Saskatchewan, Canada, school becomes the eighth official member of this growing league and will be led by Coach Adam Huffman, a former University of Regina player with the Saskatchewan Provincial Team.
"This partnership, this opportunity, it opens doors and creates unique opportunities for your young athletes," Huffman said, "I am excited to develop this team and see just how elite we can become."
An Alaskan native, Coach Huffman is the founder of the Dogpound Training Academy, recognized as the first high performance training facility in the region. In his first year with the Athol Murray Argos, Coach Huffman devised an exhibition schedule that included ACAC level competitions through Alberta and Saskatchewan.
Other members of the league include: British Columbia's B.C. Christian, New Brunswick's Rothesay Netherwood, Quebec's Thetford Academy, Toronto's St Mike's and TBA, Ottawa's Topflight Academy and Sault Ste Marie's Prolific Prep North.
About Athol Murray College of Notre Dame
Athol Murray College of Notre Dame was founded in 1920 in Wilcox, Saskatchewan, through the efforts of the Sisters of Charity of St. Louis and Father James Athol Murray, who the college was later named for. Athol Murray College of Notre Dame is a private Catholic boarding school that offers a traditional Catholic education and welcomes students of all faiths; in addition to helping students pursue a quality education and spiritual development, the college offers students various athletic programs, including one of the top hockey programs in Canada. To learn more about Athol Murray College of Notre Dame, please visit http://www.notredame.ca.