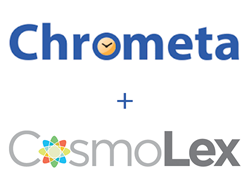 ...Our new partnership with Chrometa will increase the value of both CosmoLex and Chrometa...
North Brunswick, NJ (PRWEB) October 06, 2016
CosmoLex, a leading cloud-based, law practice management software provider, has announced an integration with Chrometa, an industry leader in legal passive timekeeping.
Chrometa becomes the latest of a series of technology integration partners to join a legal technology ecosystem that CosmoLex has created over the past year.
"Just about a year ago we made our intentions clear that we wanted CosmoLex to be much more than just a practice management system but rather, an ecosystem where the synergistic legal technologies can be integrated and used together," said Rick Kabra, CEO of CosmoLex. "Much like past integrations, our new partnership with Chrometa will increase the value of both CosmoLex and Chrometa to the end-user when used hand in hand."
Chrometa helps attorneys passively track time while working on a PC, Mac, iPhone, or Android device. Automatic time tracking occurs in the background while attorneys work inside of an application or a document on their devices - helping attorneys be sure that they are correctly recording and capturing all the time they spend working on a specific matter. Other benefits of the Chrometa system include:

Email and mobile call/text message time tracking
Capturing and recording email time entries, with to/from addresses and subject lines
Automatic recording of website URLs being accessed during legal work
"Time tracking is an integral piece of billing clients, and unfortunately without the right solutions in place this can add extra work and tasks to an attorney's day - taking time that could be better spent working with clients," said Brett Owens, Chrometa CEO and Co-Founder. "At Chrometa we are very excited about this new partnership with CosmoLex that will allow time entries recorded by Chrometa to be easily synced with an industry leading solution like CosmoLex and increase the ease and clarity in which attorneys bill their clients."
About CosmoLex
CosmoLex®, the leader in legal practice management software that includes all the tools needed to efficiently manage a law firm under one login. With clients in 46 states, CosmoLex allows firms to handle legal billing, law firm accounting, attorney trust accounting, and legal practice management in one seamless service delivered via the cloud. CosmoLex saves firms time and money while keeping compliance top of mind. Read more about CosmoLex at http://www.cosmolex.com. For ongoing news, please go to http://www.cosmolex.com/about/news-events/.
About Chrometa
Chrometa is an online passive time tracking solution that helps business owners keep track of their financial performance using tools like time trackers, automated time sheets, a mobile timekeeping app, phone call and meeting timekeepers, and invoice generators. For more information, please go to http://www.chrometa.com.