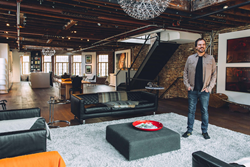 New York, NY (PRWEB) October 05, 2016
Following the launch of SpareRoom.com across the U.S., founder and CEO Rupert Hunt is moving to New York and using his own site to find two roommates to share a luxury apartment in Manhattan's West Village. The 3,400 square foot, three-bed loft on Bleecker Street boasts a huge living space and a 1,500 square foot roof terrace with views of the Manhattan skyline.
In a neighborhood where average monthly room rents regularly top $1,800, roommates will pay just $1 each for their rooms. Rupert is kicking off his search with his own listing on SpareRoom, including a video so potential roommates can get a better idea of what he's looking for and whether it might be a mutual fit. He'll choose several people to meet face-to-face, as well as attend one of SpareRoom's popular SpeedRoommating events.
Click here to see Rupert's video ad, which went live today.
Rupert Hunt, founder & CEO of SpareRoom.com, comments, "I'm a firm believer that living with the right people beats living on your own. I've lived with roommates back in London for years and love it. When you move to a new to a city, the people you live with in the first few months are so important. They can be the difference between falling in love with a place or never quite feeling at home. So, whether my new roommates have been living in New York all their lives and can show me their favorite spots, or are as new to the city as I am, it'll be great to share the experience.
"I'm taking affordability out of the equation completely by offering the rooms for just $1 a month. I'd rather choose people based on how well we get along, not how much they can afford.
"I know what it's like to try and pursue your dreams in an expensive city. I moved to London to be in a band when I was 21. Things were financially tough - I worked two jobs, including stocking shelves in a supermarket to make ends meet. It's great to think this could be a chance for one, or both, of my roommates to follow their dreams – that this opportunity could support someone's creativity, allow them to volunteer, study or even start a business like I have."
– ENDS –
Notes to Editor:
To download images of Rupert and the West Village apartment, click here.
For more information or to interview Rupert Hunt:
Austin Weedfall
Hotwire PR for SpareRoom
spareroomus(at)hotwirepr.com
About SpareRoom
Launched in the UK in 2004, SpareRoom is the UK's biggest roommate site (and third biggest real estate site overall). SpareRoom already has over 194,000 users in the US.
SpareRoom allows users to upload video to their profiles to bring the immediacy of a face-to-face meeting to the process of finding roommates online.
For more info on SpareRoom's Speed Roommating events see http://www.speedroommating.com
SpareRoom is available via free iOS and Android apps as well as online. Every SpareRoom ad is moderated, both by automated systems and real people checking ads.