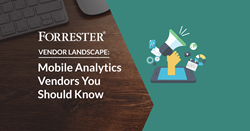 Seattle, WA (PRWEB) October 05, 2016
TUNE, the leader in mobile marketing technology, today announced that it has been named among "Mobile Analytics vendors you should know" in a new Forrester Research Inc. report.
In August of 2016, Forrester, the Cambridge, Mass.-based technology and market research firm, published a report "Vendor Landscape: Mobile Analytics Vendors You Should Know." TUNE has licensed this report so it is accessible at no cost. This report offers an overview of the technology vendor landscape across a broad variety of mobile analytics.
According to Forrester, "most companies struggle with their mobile analytics strategy. Customer insights (CI) professionals need a combination of technology partners and internal best practices to make the best use of mobile analytics. However, choosing a technology partner is challenging today. The vendor landscape is fragmented and diverse, leaving CI professionals confused about their options."
"Being successful with mobile comes down to a clear understanding of your business goals and how those map to the consumer experience, and that means being best at both web and app platforms," said Peter Hamilton, TUNE CEO. "I couldn't be more excited to see Forrester providing this level of insight into the tools and platforms available to marketers, especially because I believe that it reflects the work we've done at TUNE to consolidate those offerings into one marketing stack that is designed for mobile."
The category "mobile analytics" represents a broad set of technologies, and isn't often well understood. Most buyers know that mobile needs to be part of the marketing mix, but often don't know where to start. Other times, they may not have a clear understanding of their business goals or a business case, further complicating the buying decision.
To help address this knowledge gap, TUNE believes that Forrester outlined in its new report the business case for mobile analytics, provided recommendations for buyers, and established a framework for feature sets across all vendors. The technology and market research company noted that "any digital intelligence technology road map must be guided by a three-tiered architecture of data, analytics, and optimization." TUNE believes that these core functions need to work together for a complete mobile analytics solution, or what is often called "the complete stack."
Download your complimentary copy of "Vendor Landscape: Mobile Analytics Vendors You Should Know" for industry-leading guidance on selecting the right mobile analytics solution.
About TUNE
TUNE is on a mission to make mobile marketing better for everyone. As the most adopted measurement and attribution provider for the top 100 apps across iOS and Android, TUNE is trusted by Expedia, Sephora, Starbucks, Amazon, and many other world-class brands. TUNE builds solutions that arm marketers and their partners with insights to help effectively engage consumers with timely, personalized marketing messages. Headquartered in Seattle, Washington, with more than 350 employees in eight offices worldwide, TUNE's solutions are globally recognized as the most innovative, reliable, and best supported in mobile marketing. For more information, visit ​http://www.tune.com​.