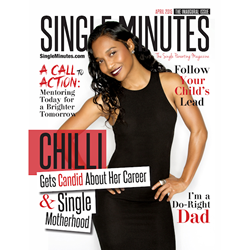 "There is a very different perception of the family unit today. I want the magazine and other projects associated with Single Minutes to be a resource for single parents and the products of single parent homes," White explains
Los Angeles, CA (PRWEB) October 05, 2016
Approximately 20 million children are products of single parent households.  Single Minutes Magazine was created to celebrate the strength and resilience of single parents and to be a resource for those who struggle or feel alienated while parenting. 
"Single Minutes Magazine represents the 'new American family,'" says publisher Kathy White.  After a successful debut issue featuring child advocate TLC's Chilli, Single Minutes Magazine is hosting a GofundMe campaign to raise funds to continue supporting and celebrating single parents and children across the country. In addition to Chilli, Radio One / TV One founder and single mother Cathy Hughes co-signed Single Minutes; admitting there is an obvious need for the publication.
Many may have counted White out years ago when she became a single mother at age 15, however due to a strong support system she calls her "village", White successfully raised a son that is now a successful business executive with a dual Master's Degree.  Besides her son, White is a successful educated businesswoman with ties to Entreprenuer's Organization and many more. White lead a million-dollar medical facility before realizing her passion was to launch Single Minutes Magazine.
The immensely popular "Parents" Magazine is possibly the staple magazine for parents, but it was founded almost a century ago back in 1932 and doesn't reflect the changes in the American family over the last fifty plus years.  According to the US Census Bureau 1 out of every 3 children you see in the US are the product of a single parent home from various elements.  
"There is a very different perception of the family unit today. I want the magazine and other projects associated with Single Minutes to be a resource for single parents and the products of single parent homes," White explains. 
Single Minutes magazine is based on the premise that regardless of socioeconomic status or educational background, there is no blue print for raising successful conscientious children. White insists that unity, harmony and dialogue are the tools most needed in raising healthy children.  Single Minutes magazine is aimed to be a resource for parents and children across the country and White says the first issue was a great introduction but there is more to do. After learning she suffered from ESRD (End Stage Renal Disease) White was forced to slow down on securing sponsorship and financial partnerships for Single Minutes Magazine. She refused to let the disease stop her progress and instead is asking for the public's support.
White has created a Gofundme account to accept donations towards the next phase of Single Minutes Magazine. White hopes that parents and adults who are successful products of single parent families will support the magazine. For more information visit: http://www.gofundme.com/singleminutesmag