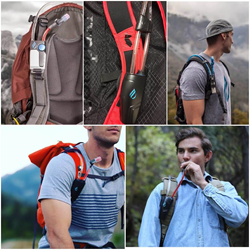 Salt Lake City, Utah (PRWEB) December 01, 2016
InFuze Hydration is now on it's way to revolutionizing the outdoor experience. InFuze Hydration is a patented in-line flavoring system for hydration packs. A first of its kind, InFuze Hydration is an inline flavoring system that allows users to switch from flavor to water at any time – keeping water, as well as flavor, in an easily accessible and portable pack.
InFuze Hydration successfully completed its Kickstarter campaign earlier this fall, and with the help of over 147 backers - the InFuze team raised over $12,500 dollars, exceeding the original campaign goal. Supporters can now track the product's current development and production, here.
For adventure-seeking warriors, InFuze Hydration is the ultimate outdoor accessory. With InFuze, outdoor enthusiasts can get flavor on demand, without ever putting any flavor in the water bladder. It can easily be attached to the end of the hydration tubing and secured to the shoulder strap of the hydration pack to keep H2O levels high and replenished.
How it works: InFuze Hydration uses a patented shuttling venturi that is activated by suction. When activated, flavor is metered and introduced (syphoned) consistently so each drink tastes the same. When deactivated the venturi acts as a check valve and shuts off the flavor and prevents any syphoning or back flow between the flavor cartridge and the reservoir.
To use: Just pull off the mouthpiece and attach the hydration hose to the Infuze. Reattach mouthpiece to the opposite side of Infuze (on the tubing that's provided, no cutting necessary). Turn the flavor dial to adjust and get your perfect flavor intensity; turn it off for water.
Users can switch from flavor to water at any time, and use whatever liquid flavor desired; or switch it out for electrolytes. Watch this Youtube Video to learn more: https://youtu.be/VSXK45v1-rY
InFuze Hydration:

Is interchangeable with any hydration pack
Has a flavor cartridge that is 100% refillable and interchangeable (Change the cartridge at any time)
Has a Cartridge that can hold 1.6 oz. of any liquid water enhancer (MIO, Powerade, Crystalite, liquid Electrolytes, ETC)
Will provide the user with 90+ oz. of flavored water
Uses the Highest quality of ingredients - pure, natural and delicious
Does not use aspartame, chemical sweeteners or food dyes
Is mess free, never worry about scrubbing out your reservoir ever again
Price starts at $39.00.
Now hikers can enjoy their outdoor experience while staying satisfied and hydrated without clean up, flavor staining, ruined reservoirs, and without more getting stuck with 100 ounces of fruit punch.
Interested in a live demo or sampling? Contact Klavoie(at)Chicexecs(dot)com
For more info, visit: s.infusehydration.com/chicexec and http://infuzehydration.com/