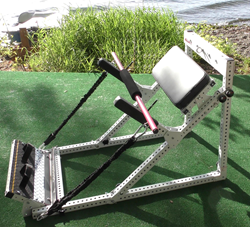 The AllN-1™ was originally designed as a hip thruster machine for Figure and Fitness competitors that were tired of having to awkwardly use a bench or leg extension machine to do one of the most fundamental exercises
SAMMAMISH, WA (PRWEB) October 06, 2016
Long-term fitness requires dedication to both nutrition and exercise. A person can't workout enough to counteract a bad diet, and similarly a person can't slim down without body movement. And, without motivation to make long-term goals a reality, a person won't last long in the gym. This is exactly why TrainChange Fitness has developed a trifold approach to fitness. TrainChange, which stands for Training your Body and Changing your Life, was created to help people achieve their lifelong fitness goals by using a combination of techniques to empower them into making change through daily motivation techniques, and computer generated nutrition plans and exercise routines.
Today, TrainChange Fitness announced it will launch a Kickstarter campaign to introduce its new AllN-1™ exercise bench to be used in conjunction with its TrainChange Fitness strategy.
The AllN-1™ is a multi-purpose fitness bench for both commercial and home use. Its adaptable designed lets users perform more than 100 exercises incorporating fitness bands and a person's weight. Although it's made from commercial grade steel and aluminum it weighs less than 100 pounds.
"The AllN-1™ was originally designed as a hip thruster machine for Figure and Fitness competitors that were tired of having to awkwardly use a bench or leg extension machine to do one of the most fundamental exercises in a competition fitness routine—hip thrusters," said TrainChange founder Al Smith, Jr., ISSA certified fitness trainer with over 30 years of first-hand personal training and competitive fitness experience. The AllN-1™ is SAFER for doing hip thrusters for advanced athletes that want to perform the exercise with a weighted barbell, whereas beginners can use no resistance at all, because the swiveling back and foot plate double the effectiveness of doing the exercise. Currently, there are only 1 or 2 other hip thrusters on the market, but if you Google "hip thrusters" you'll see the immediate need for such a machine in the marketplace.
"As a fitness consumer myself, I can't rationalize having to pay over $500 for a machine that only does one exercise," says Smith. Going on to explain, "Since less than 1% of the population are Fitness or Bodybuilding competitors, I decided to use my personal training background to incorporate the most basic exercises of any fitness routine into the AllN-1™ in addition to the advanced exercises." AllN-1™ customers even have the option of working with virtual trainers or attending AllN-1™ virtual group sessions for extra motivation and social support. It really is an all in one approach to fitness.
"With TrainChange and the new AllN-1, people have access to every aspect of what they need to reach their fitness goals from their living room or wherever their motivation leads them to touch the hem of their own greatness for that day," said Smith. "My company has taken away the age-old excuse of not having enough time or resources to take care of one's self."
TrainChange's AllN-1™ Kickstarter campaign will begin in early November at a deep discount to help get the product into households before the infamous New Year's resolution cycle begins. "I like to think that with the AllN-1™ and our complete fitness lifestyle offerings we're providing the marketplace with tools that anyone can use to finally achieve their fitness goals," said Smith.
About TrainChange Fitness
Founded in 1997 by 30-year fitness industry veteran, Al Smith, Jr., TrainChange Fitness is the first and only fitness company to incorporate three core components – consistency, nutrition, and exercise – to produce a total fitness program under one suite of products. Its online, instructor-led workshops and self-paced courses provide motivation and nutrition planning while the new AllN-1™ exercise bench provides the opportunity to exercise at home with real-time, online personal training. For more information and to follow the AllN-1™ Kickstarter campaign, visit TrainChange.com.