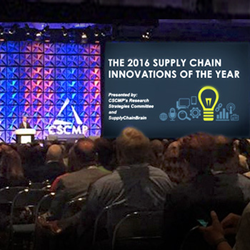 The Invata case study featured an approach to omni-channel fulfillment that turns traditional approaches to fulfillment on their head.
Conshohocken, PA (PRWEB) October 05, 2016
Invata Intralogistics, an innovative engineering / software development firm specializing in the design, implementation, and integration of technologically advanced omni-channel distribution systems, announced today that it was honored by the Council of Supply Chain Management Professionals (CSCMP) as a finalist in the 2016 Supply Chain Innovation Award™ competition.
The CSCMP and SupplyChainBrain Supply Chain Innovation Award is today's most prestigious recognition of innovation in supply chain management, highlighting innovations in process, technology, and/or application that create quantifiable and sustainable results in cost savings, revenue, and customer satisfaction. Finalists for the 2016 SCIA competition where chosen from a pool of 43 case studies submitted by companies from across the globe. Six Finalists, including Dell, Johnson & Johnson, and Airbus, presented their case studies at the CSCMP Annual Conference last week in Orlando, FL, which were judged by analysts, educators, practitioners, and industry journalists from CSCMP and SupplyChainBrain.
Invata's case study, entitled Optimizing Omni-Channel Fulfillment Through Systems Innovation, focused on a distribution center it created for its customer and co-presenter in the competition, Destination Maternity, the world's largest supplier of maternity apparel.
The study featured an approach to omni-channel fulfillment that turns traditional approaches to fulfillment on their head:
Instead of building a fulfillment system that relied on manual batch picking, and the associated inventory storage and replenishment strategies required to support it (forward picking, replenishment, re-slotting, and reserve inventory), Invata built a system that completely eliminated the need for those processes.
Utilizing an innovative inventory management strategy that relies on randomized, automated storage, the Invata system automatically transports single SKU totes to goods-to-person sorter induction stations as needed for order fulfillment. This not only eliminates the need for manual picking and all its associated processes, it also eliminates numerous touches and scans per item, while raising the efficiency of individual sorter induction stations to 1000+ pieces per hour. In doing so, this approach enables the each-item fulfillment and shipping that is critical to Destination Maternity's distribution strategy, while also incorporating truly waveless processing into their order fulfillment methodology.
"It was an honor to be on the stage with such impactful leaders," said Ryan Sheehan CEO of Invata of the presentation ceremony. "To have our innovations incorporated into the same conversation with the kind of world-class solutions presented by the other finalists is a humbling and empowering experience."
About Invata Intralogistics
Invata Intralogistics is an innovative expert in the design, implementation, and life cycle support of automated distribution and fulfillment center operations with demonstrable expertise in both software and systems engineering and development.
Specializing in integrating the flow of information with the flow of material goods, Invata offers complete solutions that begin with in-depth operational analysis and end with purpose-driven, turnkey intralogistics systems that optimize processes and resource utilization while maximizing operational efficiency.